Alchemy Art Center prepares its pop-up exhibition of guest artists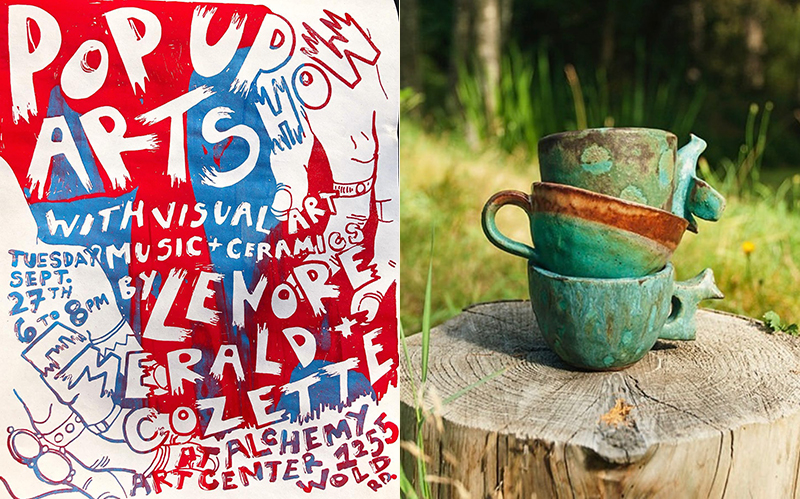 ---
||| BY GLENN HENDRICK for ALCHEMY ART CENTER |||
---
Come see what Alchemy's incredibly talented August/September cohort of artists have been up to this summer! This Tuesday, September 27 from 6-9pm, Alchemy welcomes you to its dome exhibit space at 1255 Wold Rd. You can purchase beautiful pottery, prints, and other original artwork. Additionally, Emerald will perform their original songs at 7 p.m. This is the culmination event for Lenore Wan, Cozette Ellis, and Emerald VL, who have all lived and worked at Alchemy and interacted with the SJI community through free art activities for the past two months.
Lenore Wan is a multidisciplinary artist from Seattle working in the fields of ceramics and illustration. She enjoys capturing playful shapes and colorful patterns in her work. At the Alchemy Art Center, she developed hand-building and glazing techniques, as well as fabric painting. She enjoys working spontaneously and freely to capture the exploratory process of artistic creation.
Cozette Ellis is a visual artist and illustrator who spent her time in alchemy working with different forms of printmaking and learning ceramics. She is inspired by the human body in all its forms, especially incorporated with colors and patterns.
Emerald VL is a guest artist from Berkeley, CA. She has a background in drawing and painting and has spent her time here at Alchemy focusing on her music and learning screen printing and ceramics. On the 27th show, Emerald will share art and a set of music she wrote while on the island.
These guest artists are part of Alchemy's Artists in Community program, which is made possible with support from the NEA, ArtsWA, Tulalip Charitable Fund, San Juan Island Community Foundation, and support from the SJI Community.
Please see www.alchemyartcenter.com/events for more information, and www.alchemyartcenter.com/contact for driving and accessibility information.
Alchemy Art Center, founded by Maria Michaelson and Eben Shay in 2017, is a nonprofit arts organization dedicated to building a thriving art community on San Juan Island.
For more information on Alchemy, visit our website at www.alchemyartcenter.com
---
---
Orcasonian's comment policy
We encourage comments and expect conversations to follow the conventions of polite speech, much like in kindergarten. Therefore, we have some basic guidelines:
We need your FULL NAME.
No vulgar language, personal attacks of any kind, or offensive terms targeting protected classes
---