Art Center combines fried chicken and art for a win-win | Local News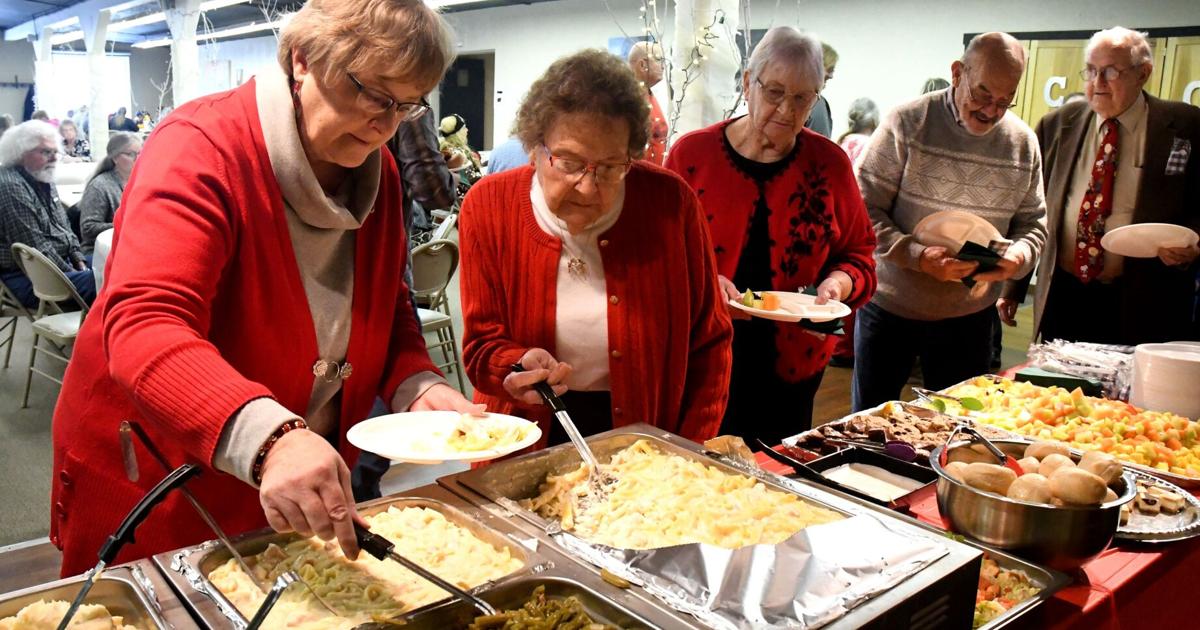 Thorntown has a handful of restaurants, but none offer Sunday brunch. And the Sugar Creek Art Center offers art classes and free admission to its gift shop and galleries, but remains largely unknown.
It all came to a close on the second Sunday in February when the art center invited the public to a gallery opening reception that included a buffet brunch prepared by caterer JC Cocina.
The event solved two problems – Thorntown's brunch drought and low attendance at art gallery openings caused by COVID-19.
The Audiel brothers and Jose Carillo own JC Cocina, which they operate from a commercial kitchen adjacent to the arts center's event hall. COVID-19 halted their catering gigs in 2020, so the two have started selling prepared meals from the art center, and demand remains particularly high among locals for their fried chicken dinners.
The duo have been chefs for more than 15 years, including 10 at the LA Café in Whitestown, and offer a full line of fried chicken, chicken and noodles, salad and vegetables, fruit salad, desserts and more for the first gallery of the art center. brunch.
More than 80 people turned out for the inaugural event, many in family groups, and even a Colfax church van full of friends.
Diners enjoyed a family atmosphere with no loud music and room for children to stretch out. Most then lingered to visit and appreciate the local art together.
Most of the diners were first-time visitors to the art center, and SCAC volunteers invited them to smell the pottery, hand-spun yarn and weavings in the gift shop, sit on lively wooden benches and explore one-of-a-kind pieces. made by resident and local artists.
The artists opened their studios to visitors and artist-in-residence Anita Gordon served California and Italian red wines for tasting as part of the special opening of the center's Crimson and Cabernet gallery.
The brunch was the first of SCAC's new Second Sunday Gallery shows, Gordon's brainchild, with SCAC board member Angela Moody. Their aim was to attract new people to the center and increase gallery attendance, which has suffered during the two years of the COVID-19 pandemic.
Second Sunday events replace Third Thursdays this year and will feature a unique new gallery opening each month. Potters, painters, weavers, quilters, textile artists, carpenters, jewelers, printmakers, photographers, and other artists from across Indiana lend their works for SCAC gallery exhibits.
Resident artists and other local artists also exhibit work and teach art classes for adults and children at the center.
Second Sunday gallery openings are from 11 a.m. to 5 p.m. on the second Sunday of each month. The brunch buffet with drinks costs $13.50 per person and is served from 11 a.m. to 2 p.m. Reservations are recommended for groups and can be made by calling 765-436-7105.
Crimson and Cabernet is open on the second floor throughout February, along with Gordon's featured exhibition on the first floor, Beauty in Necessity, a collection of paintings exploring the beauty found in studying ordinary objects of necessity .
The SCAC and Gift Shop, 127 S. Pearl St., Thorntown, is open 4-8 p.m. Thursdays and Fridays and 11 a.m.-5 p.m. Saturdays, or by appointment.
For more information, visit the art center's Facebook page at https://www.facebook.com/SugarCreekArtCenter.