At home among the gum trees: official opening of the performance space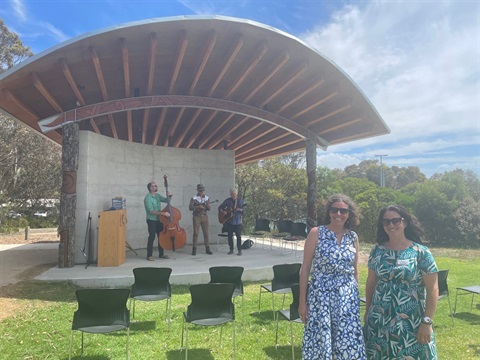 The Yellow Gums performance space at Jan Juc's Bob Pettitt Reserve took center stage on Monday, December 6, when the community space officially opened.
The project was jointly funded by the Australian Government under the Community Development Grants program with a contribution of $140,000. The Surf Coast Shire Council, Torquay Community Enterprise and the community of Jan Juc contributed $50,000 towards landscaping and irrigation of the site.
The new facility – located west of the playground, skate and bike area – is designed to complement the natural environment of the reserve and is nestled amongst a stand of Bellarine Yellow Gums.
Surf Coast Shire Mayor Libby Stapleton said the creative community in Jan Juc worked together to produce the space where artists can share their talents.
"It's been a wonderful, community-driven partnership project from the start, and I know how thrilled Jan Juc Live Group is to see all of their hard work come to life," said Cr Stapleton.
"The local arts community is clamoring for a place where locals can gather for boutique events like Christmas carols and acoustic performances.
"Yellow Gums Performance Space makes it easy and empowering for artists to showcase their creative diversity, and it's something the community can enjoy for years to come."
The permanent outdoor stage structure was constructed primarily from natural materials, with landscape works including a grassed and irrigated amphitheater.
"The Yellow Gum Stage is a magnificent masterpiece of architectural design with a curved wooden roof, curved earthen wall, carved wooden columns and a decorative proscenium arch, which complement the natural surroundings", said Cr Stapleton.
"These last 18 months in particular have made us realize how important spaces like these are, connecting us all through community events."
Paul Thompson, member of Jan Juc Live and champion of the project, said that after nearly four years of hard work by the committee, he was delighted the space was being used – kicked off with a community celebration on November 14.
"It's our community's space for music, small local shows and local events, combining nature and the creative arts in perfect harmony under the Yellow Gums," Mr. Thompson said.
"Many local businesses were involved in the planning, design and creation of this space and we thank them for their support. With what everyone has been through over the past two years, we can expect a variety of entertainment and events.
The Jan Juc Live committee recognized the efforts of local Phil Avery who died before the project was completed.
"We would like to thank our friend and fellow visionary Phil Avery, who tragically passed away just before construction began, but will always be connected to this enchanting space," Mr. Thompson said.
The stage structure was designed by Zen Architects, with creative input from Mark Trinham Art and Design and Perry Mills & Associates Landscape Architects. Construction was delivered by R&B Kahle Building and Landscaping, with landscaping work primarily by Turfcare & Hire Pty Ltd.
/Public release. This material from the original organization/authors may be ad hoc in nature, edited for clarity, style and length. The views and opinions expressed are those of the author or authors.View Full
here
.