BeltLine's reduced performance space aims to start construction soon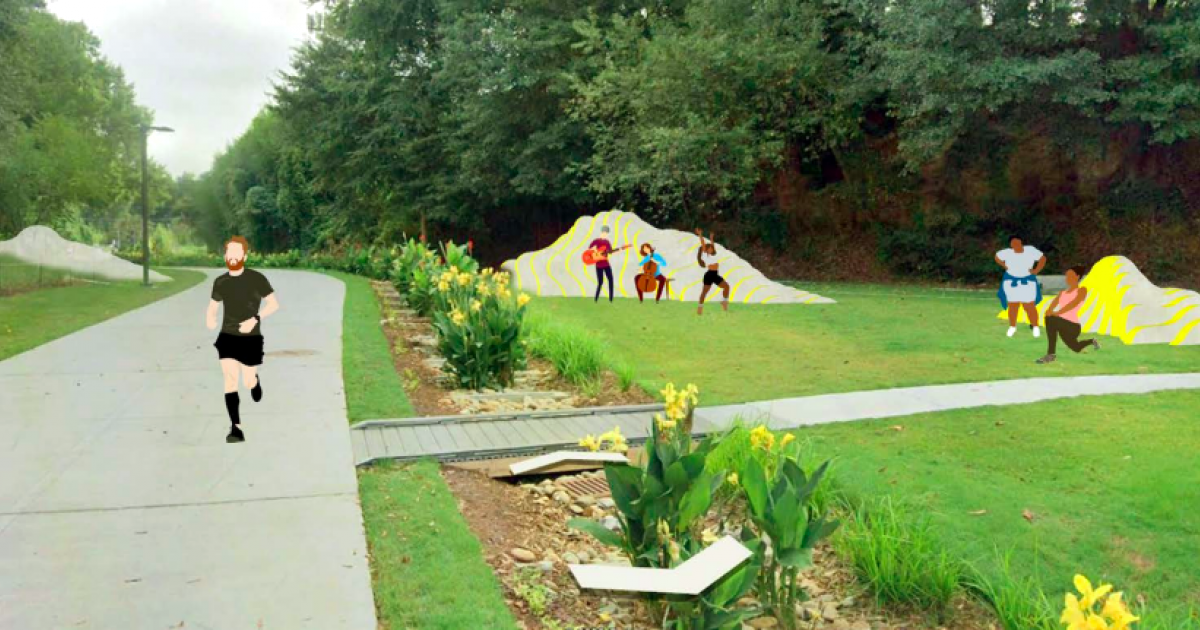 Atlanta BeltLine's push to activate trailside venues is expected to include a Reynoldstown space with a functional but scaled-down performance zone where an architectural scene has been envisioned.
Over the past few weeks, the BeltLine has revealed plans for a pop-up DJ and radio station, now housed in a shipping container decorated with neon lights in Old Fourth Ward, and a BeltLine Marketplace concept to support Black-owned businesses with pop-up shops around the Eastside and Westside trails this year.
Another project slated to move forward in the coming months, just north of the Eastside Trail intersection with Memorial Drive, would be permanent.
Plans to transform the grassy corner of Reynoldstown, nestled between the Belt Line Corridor and a treetop cliff, have been in the works since at least 2014. In that year, the Cultural Affairs Office of the mayor secured a $100,000 grant from the National Endowment for the Arts to help fund the design of the project, in conjunction with Georgia Tech.
This ultimately resulted in a dramatic concept with bleachers and a stage called "Bifurcations", directed by Tristan al-Haddad and Formations Studio, which was later cancelled, much to the dismay of Reynoldstown residents. BeltLine management, for its part, responded in 2018 that the designs were just an exercise to see what might be possible trailside.
First render for an outdoor performance venue concept called Bifurcations along the Eastside Trail. Studio training
A scaled-down vision of the project — now called the Reynoldstown Community Space — debuted at an Atlanta BeltLine Inc. meeting earlier this month.
As designed by Boston-based Make/Do Studio, plans call for the installation of cables for shows requiring electricity and permanent sculptures behind the Muchacho restaurant, across the BeltLine, from the project. of affordable Madison at Reynoldstown apartments that recently opened.
The permanent structures, according to the most recent designs, would be "dune-like", resembling "something like the humps of a mythical sea serpent sticking out of the water" on either side of the trail, like the Saporta Report recently described them.
Striped in Reynoldstown's official color of yellow, the sculptures would frame performances and be built to playground standards for children to climb (or tired sportsmen to lean on), creating the illusion of change as BeltLine enthusiasts travel, officials say.
Designs for the space are now in the final stretch, with engineering work being the next step. BeltLine executives expect to bring the finalized designs back to the community shortly before construction moves forward.
Currently, plans call for construction to begin in late summer. Walk to the gallery for a closer look.
• Images: "BeltLine MarketPlace" to showcase affordable showcases on trails (Urbanize Atlanta)