Blackford County Arts Center participates in International Placemaking Week | New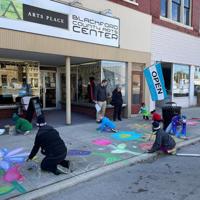 Blackford County Arts Center held a full range of activities over the weekend. On Saturday, October 8, from 10:00 a.m. to 1:00 p.m., the Center offered its second Saturday program where children are invited to participate in free artistic activities. This second Saturday was no different except that Blackford County Arts Center was taking part in the International Week of Action for Placemaking and for this event, Artist-in-Residence, Sarah Shaffer, led children in a sidewalk chalk art activity.
As it was a bit chilly on Saturday, there were also stations set up inside the center where the children could do pastels or watercolors while warming up a bit. Several children enjoyed the activity. It is said that up to 100 chalk drawings were made on the sidewalk in front of the center. The second following Saturday at the Blackford County Arts Center with free arts activities for children will take place on Saturday November 12 from 10:00 a.m. to 1:00 p.m. Activities will be led by Arts Education students from Ball State University.