Brattleboro Museum & Art Center to Host Spring Celebration | arts and culture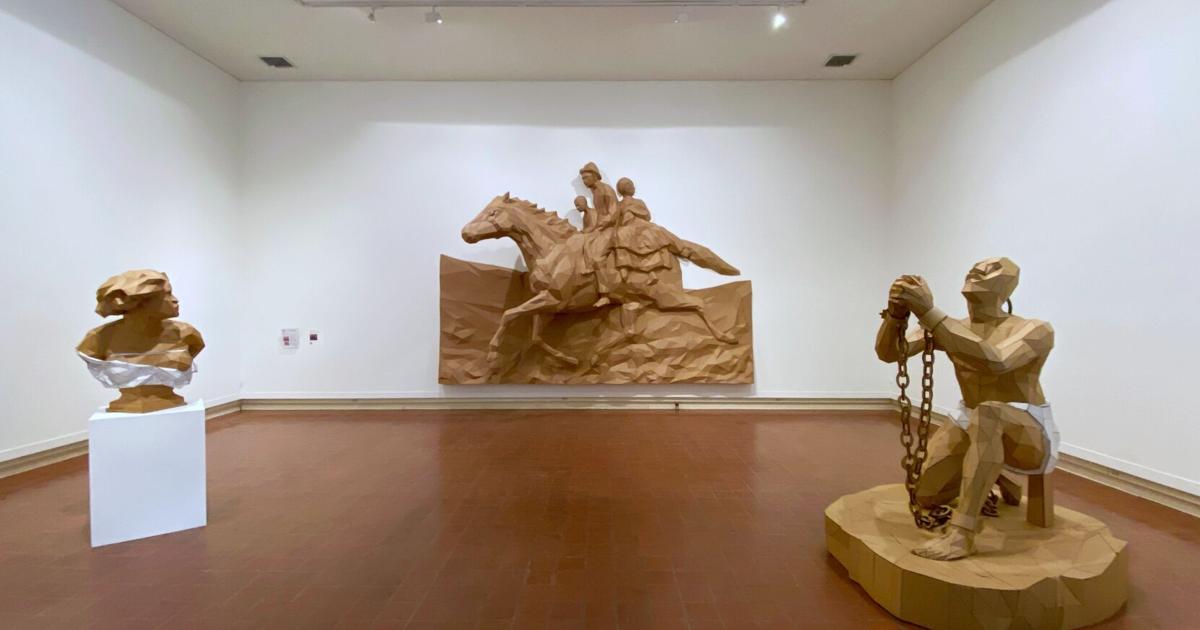 BRATTLEBORO — A celebration of spring exhibits with many artists and curators in attendance is set to take place at the Brattleboro Museum & Art Center.
At 5 p.m. on May 14, in the galleries of the museum and under a tent on the lawn, the exhibitions of the artists M. Carmen Lane, Roberto Visani, Yvette Molina, Mildred Beltré Martinez, Sachiko Akiyama, Louisa Chase, Anne Spalter will be celebrated. , Oasa DuVerney and Roberley Bell. Refreshments will be served outside, Whetstone Station will offer a cash bar and Peter Siegel will provide live music. The event is free and open to the public. Masks will be mandatory inside the museum.
BMAC's spring exhibitions present a wide range of curatorial and artistic perspectives and a variety of media, from sculpture and installation to painting and digital art.
For the exhibition '(í:se) Be Our Guest/Stolen', Cleveland artist M. Carmen Lane experimented with screen printing to create a new body of work based on the personal stories of displacement and dispossession of their family.
Curated by David Rios Ferreira, Roberto Visani's "Form/Reform" features cardboard recreations of well-known historical art objects that reference the transatlantic slave trade, including sculptures by Hiram Powers, Jean Baptiste Carpeaux and others.
"Big Bang Votive," an installation by Yvette Molina produced in collaboration with the Windham Regional Career Center and the Vermont Folklife Center, is part of an ongoing project in which Molina collects people's stories about what sparks pleasure or inspires love in their lives, then makes an egg tempera painting of a representative object from each story.
"Between Starshine and Clay," curated by the museum's curator emeritus Mara Williams, features works by Mildred Beltré Martinez, curator of the M. Carmen Lane exhibit. The exhibition presents selections from "Skin in the Game", a series in which the artist questions what she is ready to put on the line for her convictions, and "Slogans for the Revolution That Never Was", a textual series designed to undermine the idea of ​​the "slogan".
"Through Lines" wood carvings are inspired by sculptor Sachiko Akiyama's Japanese-American heritage, personal experiences, and family history, as well as Egyptian funerary carvings, medieval Christian wood carvings, and works by Constantin Brâncuși and Anne Chu. This exhibition is supported in part by the Japan Foundation New York.
Elissa Watters curated 'Fantasy Worlds', a survey of the art of Louisa Chase (1951-2016), which features sculpture, drawing, painting and printmaking from Chase's 40-year career, including objects which have never been exhibited before.
"Anne Spalter: The Wonder of It All" is BMAC's first-ever exposure to non-fungible tokens, or NFTs. Presented on six video screens, Spalter's NFT works explore themes of travel, outer space and the unconscious.
For BLACK POWER WAVE, a year-long installation in BMAC's bay windows, Oasa DuVerney was inspired by iconography related to protection, care and transition, such as Chinese Fu dogs, the cross and the Yoruba deity Èṣù. The facility will open on May 6, 2022.
"Roberley Bell: The Landscape Looks Back" is an outdoor sculptural installation made up of brightly colored wire benches that look like classic urns thrown at their sides.
Seven of these exhibitions will be on view until June 12. The eighth, 'Oasa DuVerney: BLACK POWER WAVE', will remain in the museum's bay windows until May 2023, and the ninth, 'Roberley Bell: The Landscape Stares Back', will be in the Sculpture Garden until November 6. 2022. For a full schedule of in-person, virtual and hybrid events, visit brattleboromuseum.org.
Founded in 1972, the Brattleboro Museum & Art Center presents rotating exhibitions of contemporary art, supplemented by lectures, artist talks, film screenings and other public programs. The museum is open Wednesday through Sunday, 10 a.m. to 4 p.m. The museum, located in historic Union Station in downtown Brattleboro at the intersection of Main Street and Routes 119 and 142, is wheelchair accessible. For more information, call 802-257-0124 or visit brattleboromuseum.org.
The museum is supported in part by the Vermont Arts Council and the National Endowment for the Arts. Additional support is provided by Allen Bros. Oil, Brattleboro Savings & Loan, C&S Wholesale Grocers, Four Columns Inn, Sam's Outdoor Outfitters, and Whetstone Station Restaurant & Brewery.