Chief Chat: New Vinita Art Center adds to Cherokee Nation's tourist appeal | Lifestyles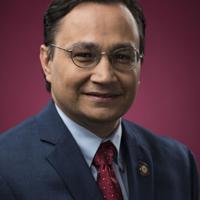 Tourism is important to the Cherokee Nation and all of northeast Oklahoma. Our Tribe's many museums and cultural sites simultaneously showcase and preserve our rich heritage while creating jobs and economic opportunities for many citizens.
The beautiful cultural art made by the Cherokees deserves to be celebrated. As Principal Chief, I have taken an oath to preserve and defend our culture. It's a responsibility I take very seriously because every county on our 7,000 square mile reserve has important cultural treasures.
The latest addition to the Cherokee Nation's cultural tourism footprint is the Anna Mitchell Cherokee Nation Cultural and Hospitality Center, which we recently opened in Vinita. Located in Craig County, the two-story, 9,400 square foot stone building sits on 8 acres overlooking historic Route 66. It will celebrate Anna Mitchell's legacy and be a gateway to the entire Cherokee Nation along of the iconic highway.
The center shares the history of the Cherokee Nation and the Vinita community while honoring the late Anna Mitchell's accomplishments in pottery and cultural preservation. She was widely known for her traditional handmade pottery and for sharing her knowledge and artistic skills with others. Mitchell was a renowned artist and authority on Southeast and Eastern style pottery and was designated a Cherokee National Treasure in 1988.
The new center represents a $5 million investment that will be a beacon for Cherokee culture and art for a long time to come. We can all be proud of its positive and lasting impact on the local economy.
This first-of-its-kind installation was the vision of First Lady of the Cherokee Nation January Hoskin, who championed expanding access to Cherokee art and culture across the reservation and beyond. She saw an opportunity to strengthen tourism and increase the presence of the Cherokee Nation along Route 66 in Vinita.
Seven Cherokee artists, including many national treasures, are featured in the center's inaugural exhibit, "Anna's Legacy: A Cherokee Pottery Renaissance." Every artist has been influenced in one way or another by her. The center also has several original works of art as well as outdoor public art installations.
The space is a world-class venue to support talented Cherokee artists and artisans. They will be able to exhibit their art to the public and sell it to arts supporters. Through the operation of this facility by the Cherokee Nation, we will publicize Cherokee artists and help them pass on our culture and history to the world.
As global interest in Native American culture grows, it is important that tribes like the Cherokee Nation realize the benefits of sharing our unique heritage. Our mission is to preserve and promote Cherokee culture, and this state-of-the-art site allows us to do that better than ever. It also has a take-out cafe with Indigenous-inspired cuisine, a gift shop, and flexible space for classes and cultural events. It will be open to the public seven days a week from 9 a.m. to 5 p.m. For more information, go to www.VisitCherokeeNation.com.
Our tribal culture and history connects us to the past, to all our ancestors who have gone before us, and it is what guides us towards our collective future. Anna Mitchell's legacy lives on through her work and the way she inspired so many Cherokee artists. Now these artists have a new setting to showcase their work and inspire the next generation.
Chuck Hoskin Jr. is the main chief of the Cherokee Nation.