Group of artists preparing the arts center and theater for reopening | Local News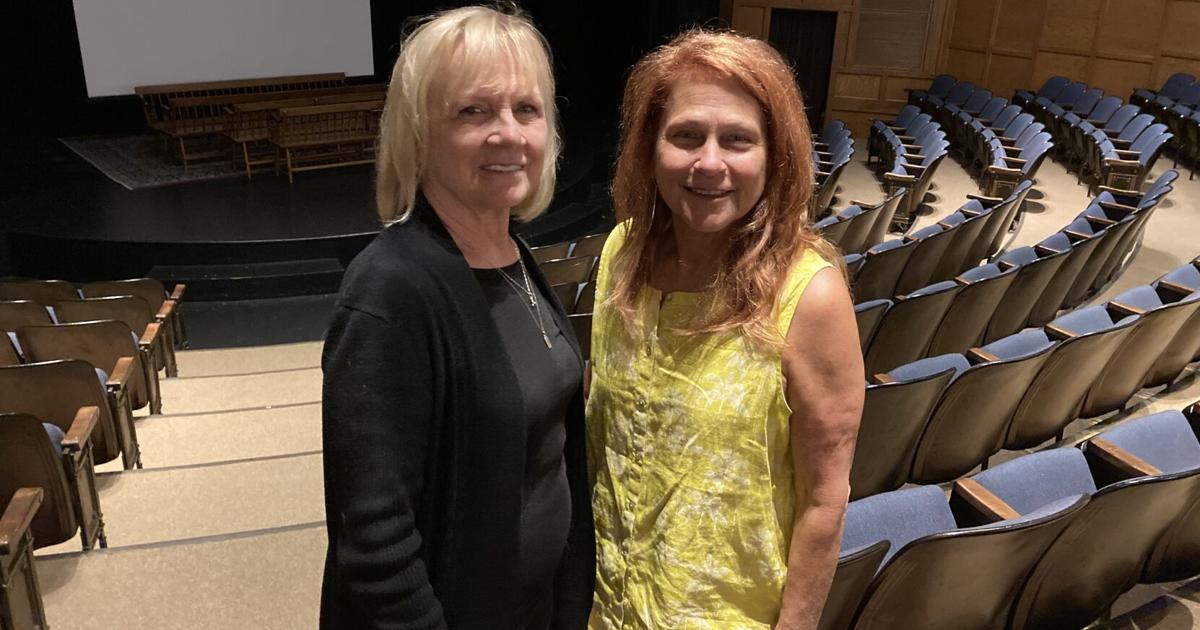 BENNINGTON — The grand opening might take a few more months for prep work, but the new owners of the former Bennington Center for the Arts campus have some exciting ideas to share.
The Society of Animal Artists, which acquired the 36,000-square-foot, 5.8-acre center off West Road this spring, is rolling out a new name — the Monument Arts and Cultural Center.
During a tour of the center this week, Renee Bemis, president of the artists' society and chair of the arts center's board of directors, and artistic director Kristine Lewis said the previously closed center was about to to open.
THEATER SPACE
Lewis said upgrades to the theater space's sound system were needed, along with minor repairs and a bit of cleaning, but otherwise the venue is almost ready for live performances.
The center also includes seven galleries, offices and other spaces. The expansive grounds include a covered bridge museum and gardens.
Bemis said the timing of the center's reopening — possibly with a gallery display ahead of live shows — now awaits final upgrades to plumbing, electrical, and air conditioning and heating systems, some of which are necessary to meet building code requirements.
This work has sometimes taken longer than it normally would, she said, due to pandemic-related effects on the construction industry in general.
"The theater is in good condition," Lewis said. "It just needs to be cleaned up."
The theater's sound and lighting systems were old, she said, and it required a new control board that could be programmed. The work was done by Mark Klak of Bennington's Klakworks Studios.
Getting ready to plan and stage theatrical performances will take a few more months, Lewis said, but the center will also schedule concerts and other live events.
"What I would like to do as an artistic director is bring plays, in-house plays, and also do community things," she said.
Other possibilities for the space include lecture series or seminars, society members said.
Lewis said the group is also open to working with area theater or other performance groups to bring events to the 315-seat venue.
"We don't want it to get dark at all, ever," Lewis said. "We're not going to produce all the shows; we cannot do it physically. We'll produce maybe five, six a year, and the rest will bring people in. We will bring groups. We will have festivals and we will use the whole field.
ANNUAL FESTIVAL?
Bemis, who lives in the Chicago area but was in Bennington this week, said the group also wants to hold an annual gathering of society members in Bennington.
"What we're looking at doing is taking a week and doing a member artist show," she said. "So it would start with hooking it up, bringing in the artists. We were doing demonstrations all over town. We would like to do something where you find artists in different fields.
Plus, she said, the company "may have an in-house entertainer reception, maybe music, bring in food trucks, and it'll be a party." We want to make it an experience. »
The goal "would be to have it every year at the same time, so it would become a festival, an art festival," Bemis said.
The company would likely coordinate the event with a theatrical production, she said, "and we would really make sure that all of our artists get here, and we would do things with the community."
ARTISTIC EDUCATION
Another objective of the group is to promote artistic education. This would include workshops for children, she said, aimed at "teaching them all the different parts of the arts, whether it's performing arts, music, dance, visual arts , sculpt, paint and maybe even do something with a garden – teach them gardening – and just bring them back to the arts.
"We were actually talking about maybe devoting some of the [center] in a children's section," offering hands-on activities, said arts center board member Rachelle Siegrist, Tennessee, adding, "We hope to have enough diversity that we can have something for everyone. world.
A children's theater area at the Vermont Covered Bridge Museum on the grounds of the arts center is another idea being explored, society members said, as is an arts-related summer camp for children.
And an artist-in-residence program is planned for the centre, with new artists rotating regularly.
LONG CLOSURE
The arts center had been closed for more than two years following the abrupt 2019 closure of the former debt-ridden Southern Vermont College; the center had been donated by its founders, Bruce Laumeister and Elizabeth Small, to SVC.
The Society of Animal Artists, which has some 500 artists from around the world, acquired the center for $500,000 as part of the college's bankruptcy process – with the full support of the founders, who had often worked with the society on exhibitions of art over the years.
Laumeister and Small oversaw construction of the center during the 1990s, which included adding new wings and features over more than a decade. The Animal Artists Society provided work for the first exhibition held at the center in 1994.
For more information about the arts center, Bemis can be contacted by email at [email protected]
The nonprofit group is also planning fundraising events and will seek grants.