Henderson Harbor Performing Arts Association Hopes to Build Outdoor Performance Space, Feasibility Study Underway | Community donations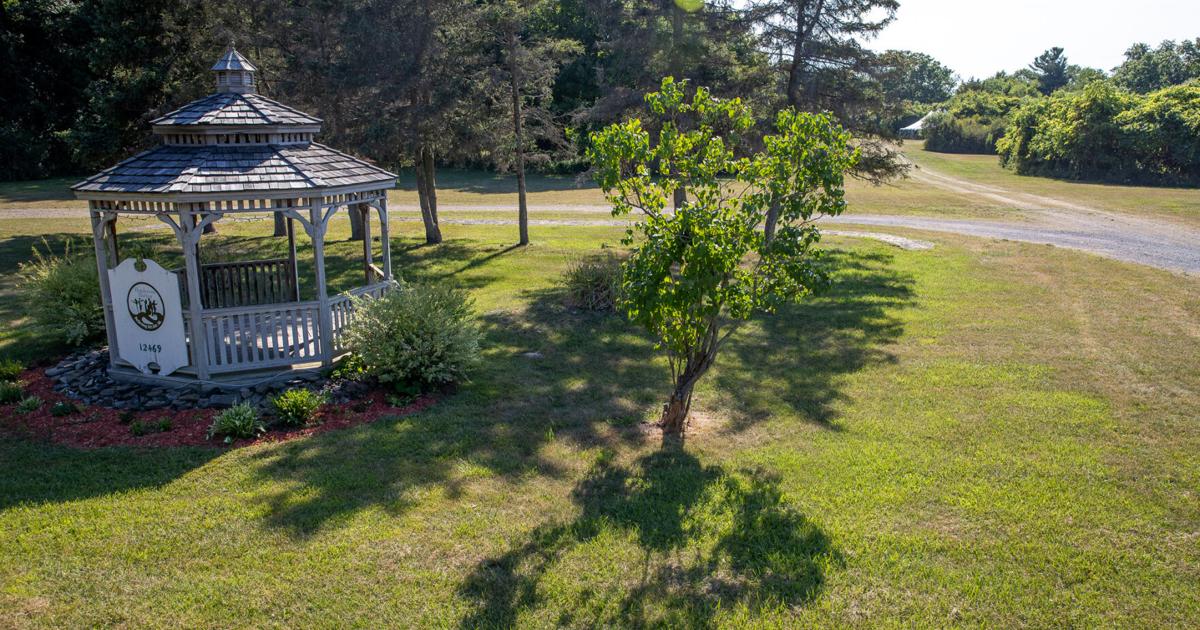 HENDERSON HARBOR — The Henderson Harbor Performing Arts Association owns 18.5 acres of land at 12469 County Route 123. With the old Mark Hopkins Inn gone, the association considered how best to use the space. With the idea of ​​constructing a more substantial space, a feasibility study is underway for a potential performance facility, but until the results of the study and the attached community survey arrive, it is too early to say exactly what it will look like.
The idea is to have an outdoor stage or theater area that can be used when the weather allows it and accommodate big acts like symphony orchestras, plays, festivals etc. as well as various exhibitions of music. 'art.
For 25 years live performances have entertained audiences on site, but usually under tents or in the open, so the Association is ready to move on to something bigger.
Eunice Westcott, director of the Henderson Harbor Performing Arts Association, Inc., has been with the organization since 1996, when she was granted ownership.
"Having a larger-scale performing arts space would be my dream," she said. "When we started this project, at the very beginning, we dreamed that it would be a place where everyone could come and enjoy arts, music, plays and such. And we had a lot of stumbling blocks over the years, but we seem to be moving forward pretty well right now.
A study is underway by RMS Research and Marketing Strategies of Syracuse to provide demographic data for the region and the northern region of the country. The association partnered with CNY Jazz of Syracuse to complete and publish the study, and a community survey was launched to gather residents' responses and feelings about the proposed structure.
Ms Westcott said as of Wednesday the survey had garnered 90 responses, a good indicator of public support.
"I just hope people will give us their honest opinion on it, are they interested in us improving it or do they just want us to forget about it?" Mrs. Westcott said. "Are we working with a hopeless problem? I do not know. I can't wait to see how people feel, if we spin our wheels or if we're going to make progress – I hope that's progress.
She noted that the association should have the results of the study by the end of August and could then use the results to determine if and how to move forward with planning. The survey can be found here: http://wdt.me/zEd5aE.
A longtime member of the association, Ms Westcott said she would like to see something really positive before handing over the reins to someone else. She said the board works hard and some have other jobs, so it's wonderful that they can volunteer their time and not get paid for anything. She said their payment was to see something good happen at the property.
According to John Culkin, chairman of the committee working on the feasibility study, the goal of the study is to determine what level of performance venue would be feasible in the area.
"We don't want to build anything too big, we're not building Tanglewood here, but we also don't want to underbuild if the area and people support something a little more elaborate," he said. . "What they'll do is they'll take that data and make a prediction or an assessment of what type of venue would be supported. They will also help us develop funding strategies in terms of where to go to start looking for grants and low interest loans and things like that as a way to fund what we're talking about building, but for the moment, it is the very beginning. We have no idea what we are going to build as the results of the survey will guide us towards this decision.
As well as a more established performance space, the association also hopes to upgrade its sanitary facilities, as events currently on site feature Port A Potties as the only offerings available. As for an indication of public buy-in to what the association seeks to do, Mr. Culkin said this study cost $18,000 and $8,000 was funded by local grants. In addition to a $5,000 grant from the Northern New York Community Foundation and a $1,500 grant from the Six Town Community Fund, the association also received $1,500 from the Henderson Business and Community Council.
"I imagine at some point we will have conversations with other stakeholders," Mr. Culkin said. "If we're going to build a big venue that's going to attract a large enough number of people, we'll want to talk to the city about parking, traffic issues and things like that. So it will be a snowball rolling down the hill in terms of involving a variety of different perspectives. We want to do it right, we don't want to build something that's going to die on the vine because it's too big, we don't want to build something that's going to disappoint people because there's no Available seats.
Somewhere in between, they hope to find what Mr. Culkin called the "Goldilocks Zone", where it's neither too big nor too small, but just right.
A seasonal resident of Henderson Harbor for over 30 years, CNY Jazz Executive Director Larry Luttinger has had a summer residence at Stoney Point for 30 years. As a result of having this address, when surveying the area a few years ago, he said he would be happy to help with any initiatives they were working on in the arts. He said John Culkin called him back the day they got his survey in the mail.
A few conversations later, they fleshed out their plans for the property.
"I was very excited because it's a wonderful place and location is everything," Luttinger said. "It is ideally situated to become a cultural attribute on Lake Ontario that I believe is unique and could have significant cultural and economic benefits for the entire region. And so I presented to their arts association and the town of Henderson and they agreed to take the next fundraising action to fund a marketing study.
The document will be comprehensive and will include recommendations on walkability, accommodation capacity, parking, signage, energy efficiency and pedestrian safety, as well as economic impact.
Recognizing the immense benefits that a cultural tourism destination can bring to the Eastern Lake Ontario region, the initiative which will create a strategic plan leading to the creation of a new performance facility and infrastructure Surrounding access on property overlooking Henderson Harbor on the corner of Military and Harbor Roads. The centerpiece of the facility is a substantial outdoor space capable of hosting a symphony orchestra, as well as concert and festival programs in all the performing arts. It will also be able to serve as a platform for various fairs and exhibitions devoted to automobiles, food truck rodeos, arts and crafts, antiques and others, as well as private and corporate events.
"After 40 years in the arts business and having been involved in other infrastructure studies, I believe this facility is destined for success," Mr. Luttinger said. "It's ideally located. »