Imagine Art Center organizes Paint Night at Stafford | Pictures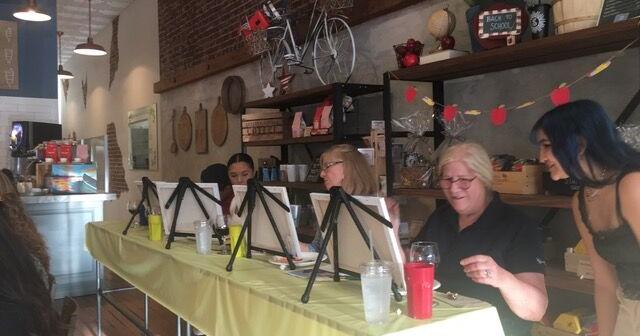 The great room at Stafford's Chocolates was packed with people, mostly women but a few men, enjoying the painting with acrylic paint, a vibrant sunset using oranges, blues and greens for color contrast.
About 22 people had a great time together, along with art instructor Rebecca Reyes who is the founder and director of Imagine Art Center in Porterville.
Reyes gave people instructions or made suggestions on how they could contrast colors and highlight the scene during the 2-hour Paint Night extravaganza.
Jeremy Ray said he was trying to catch up with his wife and sister who painted for years. "I came here to get on their level. Rebecca does a really good job explaining what she's thinking during the demonstration."
Reyes said they started community events in 2017 and "we've had at least 6 a year, or sometimes once a month."
Erika Escudero said it was her first appearance at Paint Night and it was really relaxing. She was concentrating on painting the canvas and having a great time.
Rob Taylor, the owner of Stafford's Chocolates, spoke about how popular the Imagine Art Center paint party was when Reyes started having them. He remembered a Christmas event where people were painting and singing Christmas carols together and it was an amazing moment. He said there was a big crowd and it was really memorable.
"I had a great time. I loved it," Pam Hart said. "And I'll be back and I'll do it again. Thanks to the friends who invited me, I'm delighted."