Inspired Minds Art Center Raises $4,500 for Hays County Food Bank with Empty Bowl Fundraiser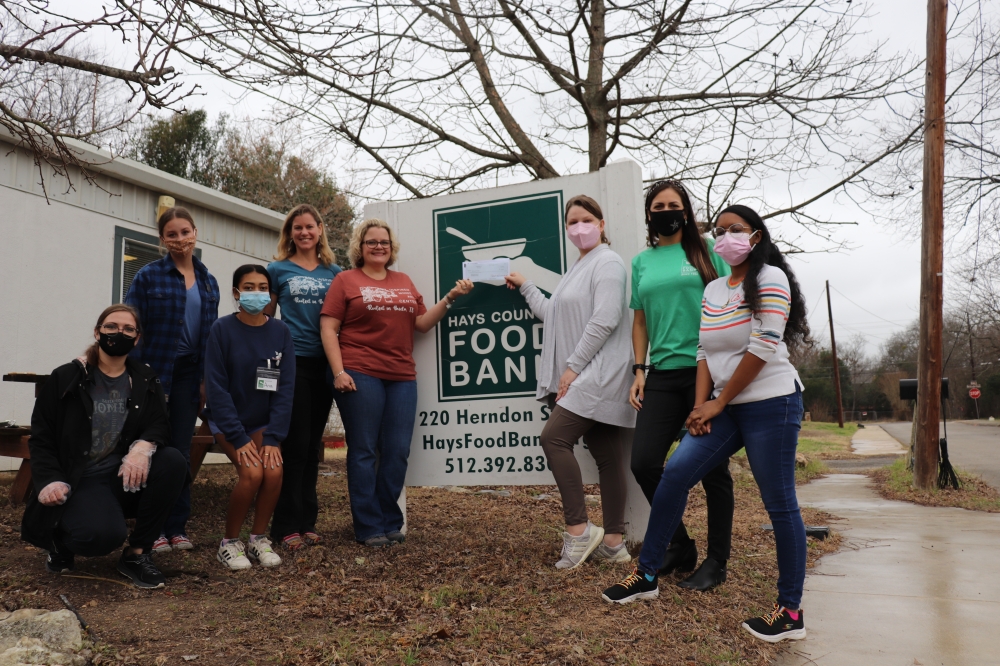 Inspired Minds Art Center presented a check for $4,500 to the Hays County Food Bank on Feb. 16 following the Jan. 22 Empty Bowl fundraiser. (Zara Flores/Community Impact Newspaper)
To celebrate its second anniversary, Inspired Minds Art Center in downtown Buda held an Empty Bowl fundraiser on January 22, with all proceeds going to the Hays County Food Bank, located at 220 Herndon St., San Marcos.
Empty bowl fundraisers are organized by local businesses or organizations to raise money for food charities and banks to help address food insecurity within their communities or globally.
Local artists created and donated over 200 ceramic bowls for the cause which were then purchased by community members.
Los Olivos Market, Mud Bugs a Cajun Joint, Helen's Casa Alde, Amici, Hays City Store & Ice House and Zoi Market donated soup, bread and other food items to those who purchased a bowl.
The idea is for this bowl to be "a reminder of all the hungry people in the world", according to the official website of the organization Empty Bowl.
Sinead Whiteside and Susan Guerra founded the Inspired Minds art center to create a sense of community in the area and be a resource for other artists. They now offer classes in various mediums, host community events, and provide support for artists.
"It's so amazing to see the community come out for this. It's a great fundraiser; everyone wants to do it; and they love to choose their bowls. … And every time you use that bowl, you know you did well," Whiteside said.
Whiteside and Guerra were able to raise $4,500 for the Hays County Food Bank and presented the check on February 16.
"The Hays County Food Bank is thrilled to have the support of the Inspired Minds Art Center," said Community Relations Coordinator Iris Tate. "This year's fundraiser helped spotlight local artists and restaurants while raising enough funds to provide 18,000 meals to our neighbors in need."
Guerra, Whiteside and Tate said they hope the Empty Bowl fundraiser can continue to grow and serve more people in the future.