Krasl Art Center Announces 2022 Art Fair Jury and New Events Director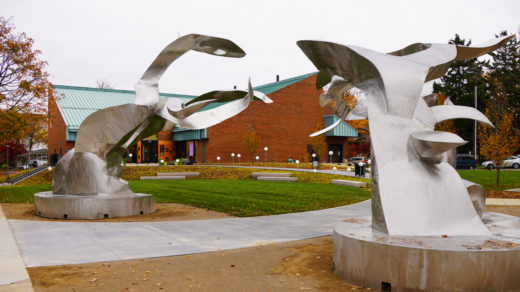 The Krasl Art Fair for 2022 comes together as the Krasl Art Center announces several details about this year's program. Among other things, it is announced this year's jurors, an events director and the number of artists who will present their work. Krasl gives us all the details:
Planning for the 60th Krasl Art Fair on the Bluff, presented by 1st Source Bank Wealth Advisory Services, has been underway since October, when artists were able to apply for the nationally acclaimed event. On February 22, five jurors virtually reviewed and judged 426 contestants to determine the final 172 artists invited to the anniversary event. Invitations have been sent out and messages of acceptance have started pouring in as plans for the 60th Krasl Art Fair on the Bluff (KAF) continue on July 9-10, 2022.
Tickets for the event go on sale Sunday, May 1. Advance ticket purchases are encouraged.
Daily admission:
General admission (guests 11 and over): $5
Children 3 to 10 years old: $3
Children under 3 get free entry; compulsory ticket.
General admission tickets are good for one day of the event and same-day re-entry is accepted.
Day of the Day Tickets: walk-in cash only (QR codes will be provided for credit card sales).
Collector Experience packages start at $130 ($65 for current KAC members) and include an all-weekend pass plus special perks. Limited availability.
Free ticket information will be available and announced when tickets go on sale.
As the biggest fundraiser for the Krasl Art Center (KAC), proceeds help make free year-round exhibitions possible.
This year, the Friday Night Block Party is back. The community is invited to socialize with participating artists, enjoy live music, art activities and a cash bar. Celebrate 60 years of Art Fair when this popular event returns! The tickets are as follows:
Guests aged 11 and over: $5
Children 3 to 10 years old: $3
Children under 3 get free entry; compulsory ticket.
KAC members receive free tickets to the Block Party as a thank you for their continued support of KAC's mission to "Inspire Meaningful Change and Strengthen Community Through the Visual Arts." To renew your membership or register for the first time, visit https://public.krasl.org/web/membership.
Be the first to know all the event details by signing up for email updates at krasl.org/art-fair/tickets.
The patronage of local businesses supports the careers of artists through this high quality event. KAC thanks 1st Source Bank Wealth Advisory Services for their sponsorship of presenting the Krasl Art Fair 2021 and 2022 on the Bluff.
Meet KAC's New Events Director: Jamie Balkin
In January 2022, Jamie Balkin started a new professional adventure as Director of Events for Krasl Art Center. Her career in marketing and communications began in 1995 while a student at Saint Mary's College in Notre Dame, IN, where she earned a degree in communications and minored in marketing.
Balkin brings her experience in several career fields to the art fair. She worked with the Cornerstone Alliance and the Chamber of Commerce from 1995 to 2013. From 2014 to 2021, Balkin served as Director of Marketing for Wightman, an engineering, architectural, environmental and surveying firm.
Balkin is currently Coloma City Commissioner. His experiences bring assets such as strong organizational skills, the ability to work with diverse people to achieve complex goals, the flexibility and ability to work under tight deadlines, and to find creative avenues in order to achieve goals, to his new role as head of the art fair. and annual events at the Krasl Art Center.
Meet the jurors
Each year, a unique panel is brought together to select the artists for the Krasl Art Fair. Jurors are selected based on their career, relationship with the arts, and expertise in their respective fields. Jurors review and score each artist's entry, allowing for unbiased acceptance year after year. The artist's personal information, including name, race, gender and addresses, is not shared with the panel to eliminate any selection bias. From the images, jurors rank the artists on a scale of 1 to 7 to determine a final score.
Krasl Art Center is pleased to introduce the five jurors whose efforts resulted in the 2022 Krasl Art Fair finalists on The Bluff presented by 1st Source Bank. You will see jurors during the fair* to select the winners of the Best-of 2022 category, so please thank them for their service in helping to create a spectacular show!
Jessica High Tower
Profession: Krasl Art Center teaching artist; Communications Specialist, Pokagon Band of Potawatomi; Artist.
Education: Two degrees in graphic design, with more than 10 years of professional experience.
Bio: Jessica Hightower is a professional artist and graphic designer born and raised in Benton Harbor, MI. Hightower has been painting for many years, but she turned to the art form in 2020 to boldly express herself. His paintings reflect the beauty of people of color, not just their skin tones, but the expression of their aura. Using color, facial expressions and hand gestures to convey emotion in her painting, Hightower wants audiences to connect with the art. to be able to invent their own story.
Nicholas Holt
Occupation: Nicolina Holt Photography; Notre Dame University – Art Department Office Coordinator; Krasl Art Center Teaching Artist.
Awards: Dean's Excellence Scholarship Award for MFA from Lesley University. Inclusion in a variety of juried art exhibitions.
Bio: Nicolina Holt is a fine art photographer from Southwest Michigan. She earned a BFA in Studio Art with a concentration in Photography and Graphic Design from Michigan State University and is in the process of completing her MFA in Visual Arts from Lesley University. She worked not only as a visual artist, but also as a photojournalist and photography teacher. Nicolina's photography explores societal norms and power structures and their relationship to women. Her work has been exhibited at Woman Made Gallery, ARC Gallery, Urban Institute for Contemporary Arts, Bridgeport Art Center, Kalamazoo Institute of Arts, Holland Arts Council, Old Courthouse Arts Center, etc.
Vincent Leman
Profession: Furniture designer, Dust Furniture.
Relationship to Art: A formal college art education, lifelong exposure to craftsmanship, and personal development through practice.
Bio: Vincent Leman grew up in his family's custom cabinetry business, where he learned the craft of woodworking. Leman applied his own artistic perspective to cabinet construction and created a distinct style of curved, abstract furniture. Using a formal engineering background, he transforms abstract concepts into reality.
Christine Perkins
Occupation: Member of Management, Kristin Perkins Glass Jewelry LLC
Awards: Best of Jewelry, Krasl Art Fair on the Bluff 2021; Second place, Toledo Art on the Mall 2021; Second place, Carmel International Art Fair 2019
Biography: Kristin Perkins is the sole designer and creator of a line of colorful and contemporary glass and sterling silver jewelry. Her passion for jewelry design began in 1984 when she enrolled in her first jewelry making and design course. In 1999, she learned to blow glass at a local studio and discovered that glass was the perfect material to include in her jewelry designs. Since then, she has developed her line of glass and silver jewelry. Kristin sells her jewelry at art fairs, online and in several galleries. Kristin is a board member of the Michigan Guild of Artists and Artisans.
*As the winner of the 2021 KAF Best of Jewelry award, Ms. Perkins will not be part of the judging panel of final winners during the show.
Kevan H. Truman
Profession: Retired 3rd grade teacher. Currently, volunteer and guide at the Krasl Art Center.
Relationship with the arts: "My relationship with the arts has been an adventure of more than 50 years. My "training" has been in the form of third grade teaching for over 30 years. Art was an integral part of my teaching. I took my students to the Art Institute of Chicago every year so we could learn more about Chicago/Illinois history through art.
Biography: Born in Milwaukee, Wisconsin, Truman has lived in six of the Great Lakes states. Saint Joseph, Michigan has always been his home away from home. He taught third grade in a northern suburb of Chicago for more than 30 years with an emphasis on gifted education and is now retired. As a lifelong patron of the arts, Truman enjoys being surrounded by artistic expressions. He took extracurricular art classes as a child/teen and college art classes. During a sabbatical at Northwestern University, Truman took several courses in art and art history. Finally, as an adult, he continues to explore my artistic knowledge by being a guide at the Krasl Art Center and taking art classes