Metro Parks Centennial Art Center Announces New Public Artwork Commemorating June 19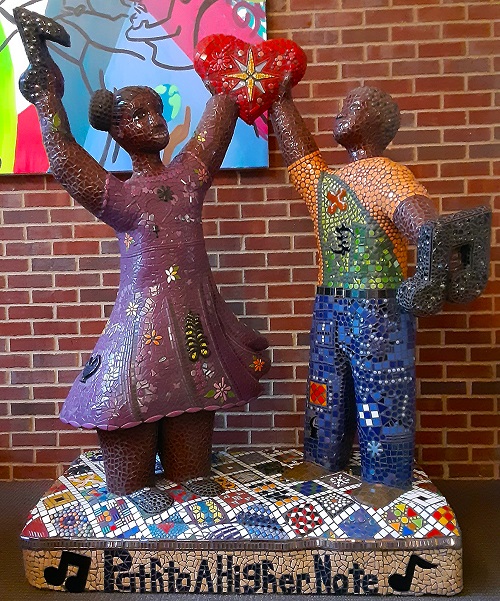 A unique sculpture commemorating Juneteenth will soon grace the grounds of the Metro Parks Centennial Art Center located in the northeast corner of Centennial Park. The Metro Board of Parks and Recreation and the Metro Arts Commission recently approved the acquisition of the sculpture Path to a higher gradewhich was created by local glass and mosaic artist, Betty Turney-Turner, and hundreds of community participants.
As part of his Exhibition on the art of healingthe Vanderbilt Curb Center for Art, Enterprise & Public Policy commissioned Betty and her team of artists to create a sculpture recognizing the arts and creativity as healing as part of the 2021 Black on Buchanan Feast of June 16.
Path to a higher grade depicts a young boy and girl standing on a base made from the patterns of quilt blocks used to send messages to anyone traveling along the Underground Railroad. Each child proudly wears clothing with Adinkra symbols to acknowledge their African heritage. They stand upright, arms pointing skyward, forming a heart with the North Star, a symbol of true north and freedom, at its center. In their outstretched hands, the children hold musical notes symbolizing the importance of music for healing, celebration and faith within black culture.
Juneteenth participants chose a tile and wrote the name of an ancestor on its back before affixing the piece to the sculptural form. This experience allowed participants to pay loving tribute to those who came before them and to use their collective journeys as inspiration for a path to a better future for all.
Details of the sculpture installation and unveiling ceremony will be announced at a later date as plans come to fruition. Metro Parks visual arts staff expect the sculpture to be unveiled at the Centennial Art Center in the fall of this year.
Funding for the maintenance of the sculpture was generously provided by Creative Parks Nashville and the Centennial Park Conservancy.