Need show space? Until Triad Stage reopens, it can be yours for one night.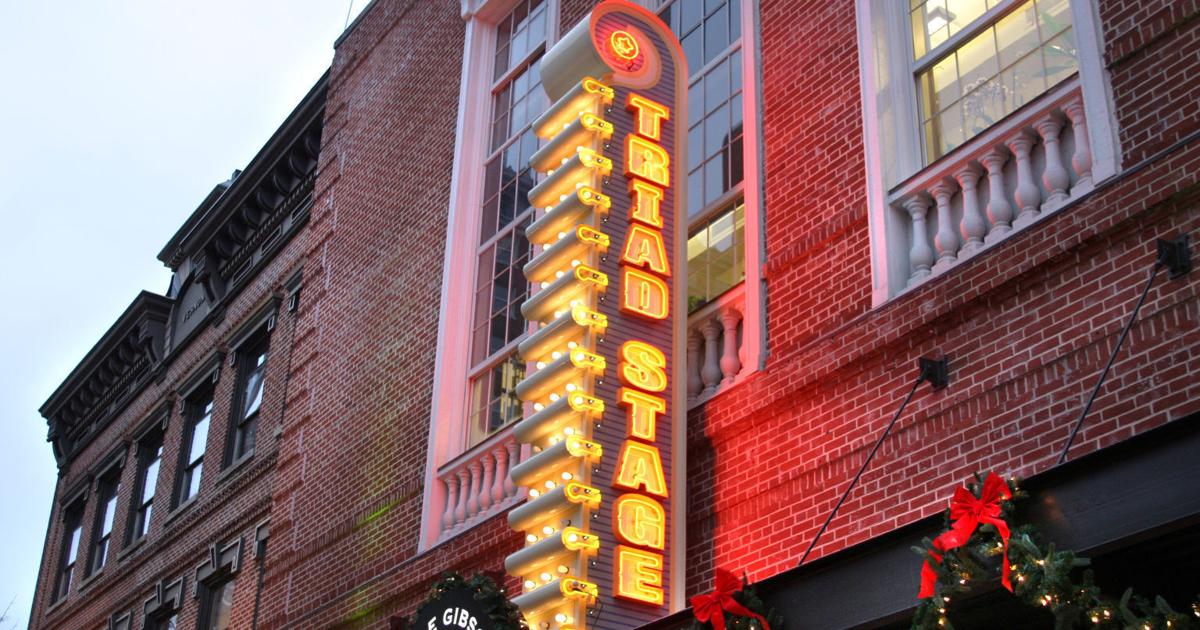 GREENSBORO — Triad Stage opened its doors to the public during NC A&T Homecoming weekend — not for a play, but for The Poetry Café.
Spoken word artist Josephus Thompson III will present his next Poetry Café session on Saturday.
Spoken word artist Josephus Thompson III hosted the open-mic evening of poetry, dance and song. About 70 people watched from seats at the downtown Pyrle Theater at 232 S. Elm St. Another 63 listened online.
The event shows how Triad Stage now uses the 300-seat theatre, closed to its own live productions since March 2020 when the COVID-19 pandemic hit, and continues after the departure of its founding artistic director.
Executives have made it available for hire to individuals and groups such as The Poetry Café, as they plan to return to produce live theatre.
They haven't set a date for that yet, say Triad Stage executives.
"We are continuing the unprecedented work we began in the spring to plan for a better, more resilient Triad scene on the other side of this shutdown," said Deborah Hayes, who chairs the nonprofit theater's board of directors. .
"While we'd like to have a definitive schedule, we're not there yet," Hayes added. "But we are working hard for the day when we can share this."
Founded by Yale graduates Preston Lane and Richard Whittington, the non-profit organization Triad Stage presented its first professional production in January 2002 – "Suddenly, Last Summer" by Tennessee Williams.
Until 2019, it produced classic plays by renowned playwrights, as well as original productions written by Lane with music by singer-songwriter Laurelyn Dossett. Actors from North Carolina and New York filled out the cast.
Whittington left in June 2019 to spend more time with his family. He is now acting vice chancellor for advancement at UNC School of the Arts.
Lane resigned in November 2020.
An article published by the alternative weekly Triad City Beat reported that some former students of the UNCG theater accused Lane of sexual abuse – allegations which Lane denied. They said the alleged incidents happened while they were students at UNCG, where Lane taught acting and directing part-time until December 2019.
No criminal charges or civil lawsuits have been filed in Guilford County.
The local theater community buzzed with shock and concern on Tuesday over allegations of sexual abuse against Triad Stage co-founder Preston Lane.
The set for the last unproduced play, "Pride and Prejudice", remains on stage, covered with a black curtain.
Behind the scenes, Triad Stage executives are now considering where to go from here.
"It's so much more than, 'When are you going to play your next play?'" Hayes said. "For this organization to survive and thrive over the next 20 years, we need to make sure we are building on a solid foundation. This is exactly the job we are doing now.
In the meantime, he's booked several rentals — The Poetry Café, a Shirley Clinton concert, a college production of the musical "Grease," and an NC Theater Education Association conference. During September's NC Folk Festival, he hosted a symposium on the art of mass gatherings.
It can also host wedding-related events. Pyrle Theater rental rates start at $900.
"It's a good way for us to stay in public view, to have people using our venue, to know that we're here and we're open and we haven't closed forever," said Justin Nichols, Director of Patron Engagement at Triad Stage.
Hayes and Nichols described the theater's progress in a recent interview.
They were joined by Sarah Hankins, Acting Artistic Director and Director of Learning, and Katie O'Kelly, Director of Operations and Production.
They are planning with the help of arts consultant John McCann of Partners in Performance in Durham.
The Triad Stage Board of Directors formed a 15-member planning committee led by Donna Bradby, an actress and director who teaches in NC A&T's theater arts program.
Theater leaders interviewed 16 people, both community leaders and people who had been affiliated with Triad Stage.
They also had five listening sessions with a cross section of the community, Hayes said.
A question: Has Triad Stage taken its course?
"Triad Stage adds value to our community in a way that no other organization in this community does," said Hayes. "We are developing programming for this community. We hire people who live in this community.
Through conversations with 62 people, Hayes said, "We've learned that the community values ​​the programming that we've done historically, values ​​the quality of the productions."
"They also told us that they think we should be more collaborative within the community and engage in more outreach to broaden our base of engagement," Hayes said. "And they want us to be a stronger, more resilient organization."
The planning group will discuss the information gathered during a two-day meeting later this month, Hayes said.
Its November board meeting will include theater leaders from various communities across the country. They have successfully operated theaters in an environment affected by the pandemic and by the social and cultural issues raised by the murder of George Floyd and its aftermath.
"We're excited to get ideas from them on how we can enrich our programming and become a more vibrant organization," Hayes said.
She expects to give another report in late fall.
"Over the past 20 years the world has changed a lot," said Hayes. "It is important for us, having committed to this process, to allow it to come to an end."
They say those who bought tickets for the 19th and 20th seasons of Triad Stage will get their money's worth.
The Triad Stage board has developed a more comprehensive diversity, equity, inclusion and access policy, Hayes said.
It also made changes to respond to the pandemic, O'Kelly said.
Individuals entering the theater must provide proof of vaccination or a negative COVID-19 PCR test within 72 hours of the event. They must wear masks.
There are only 156 seats available in the 300-seat auditorium to allow for social distancing, and a professional cleaning team disinfects the space used before and after an event.
Triad Stage faces other hurdles to reopening.
Once operated by a paid staff of around 26, it now has four: Nichols, Hankins, O'Kelly and Tabitha Davis, accountant and office assistant. Other positions will be reloaded.
A facility survey showed what will be needed for the building to comply with Actors' Equity Associations union rules, such as increased filtration, Hankins said.
All of this takes time, Hankins said.
"We're all dying to open this scene," O'Kelly said. "The second those lights go out and the stage one light comes on, I'm gonna scream my eyes out. It's that emotional, cathartic feeling that we all miss.
The theater is receiving financial assistance to reopen: approximately $1 million in COVID-19 related assistance. Organizations and individuals continue to contribute.
In September, another place enters the local artistic scene: the Steven Tanger Center for the Performing Arts.
It's important for Triad Stage to differentiate itself from the Tanger Center, Nichols said. While Tanger offers national touring productions, Triad Stage's offerings are curated, designed and built for the local community.
"We believe in a world where Triad Stage and Tanger Center co-exist as contributing members of a diverse and vibrant artistic community," said Nichols.
Josephus Thompson III, who performs as Josephus III, launched The Poetry Cafe in UpStage Cabaret, the 80-seat venue at the top of Triad Stage. He is happy to move into the main theater.
For The Poetry Café, "Triad Stage has provided a great growth opportunity for the brand," he said.
The Poetry Cafe will be back on November 13 and December 3.
"While the cabaret space is nice, we're definitely heading to where the theater is much better suited and allows the show to flourish," Thompson said.
Writer Jamie Biggs contributed to this report.
Contact Dawn DeCwikiel-Kane at 336-373-5204 and follow @dawndkaneNR on Twitter.