Storytellers in the arts: thematic exhibition on plants at the Jansen Art Center until April 30 | Community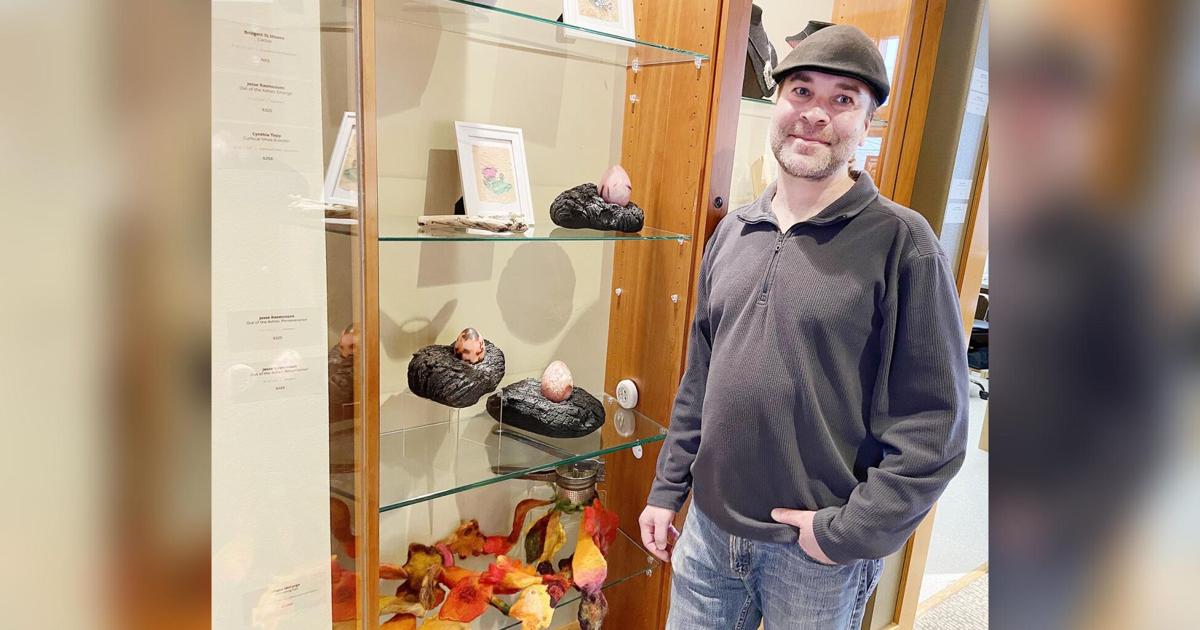 LYNDEN – A diorama is a three-dimensional display, often seen through an opening, sometimes seen through glass.
Typically on a miniature scale, the diorama is usually enclosed in some sort of rectangular cabin.
Trained as a photographer, Liane Budden presents two dioramas in the first thematic exhibition at the Jansen Art Center.
The theme exhibition, a plant-based exhibition, will be on display from March 3 to April 30. The official opening of the exhibition will take place from 5 p.m. to 8 p.m. on Thursday, March 3. Jansen Art Center is located at 321 Front St., Lynden.
For Budden, a teacher at The J, dioramas are another way she explores the inner storyteller.
"I love the hands-on approach and the intimate details I can create throughout the process," Budden said. "In almost all of the work I create, I enjoy reusing, repurposing and reinventing materials to help tell the story."
Budden explained that the two pieces she chose for the show were created using cedar branches and pieces of wood she collected on my daily walks in Semiahmoo.
"As I walk and enjoy the sights and sounds of nature, I pay attention to the path ahead of me," Budden said. "Sometimes I see a little branch that has blown off the trees that I know I can use in my art."
The dioramas she chose to submit to the show were created using mostly cedar and small pieces of driftwood.
"Both dioramas are strong representations of what I love about being born and raised in PNW and SE Alaska," Budden said. "We are so privileged to live among the power and awe of volcanoes, forests, mountains, Puget Sound, the desert, and the mighty Pacific Ocean. My creativity shines through when I work on artwork that comes straight from my heart, and my heart belongs to the natural beauty of PNW and SE Alaska.
In the spring, Budden will teach a diorama class at the J.
Ferndale Artists at the Jansen Art Show
Of the artists whose work is included in the plant exhibit, three are from Ferndale: Liz Cunningham, Ellen Dooley and Karen Theusen.
A student of 19th century photographic processes, Dooley has two cyanotypes in the exhibit. Printed on watercolor paper, Dooley explained that his cyanotypes are created in the mind of Anna Atkins, the first photographer to publish a botanical picture book in 1843 using what is known in modern times as a alternate photography.
"I work with images of the earth, trees and flowers, the sea and how humans and other creatures interact with them," Dooley said. "My studio practice incorporates many alternative processes such as lumen prints, chemigrams and anthotypes, as well as film negatives produced with a growing collection of vintage cameras."
The 104 pieces selected for the plant exhibition were created by 52 artists. Two of the artists are instructors at Jansen, one works at the Jansen office, another is a volunteer.
Lynden resident Evelyn Turner volunteers at the J. In August 2021, Turner was traveling in northern California when she photographed a place called Stout Grove in the redwoods. This image is part of Jansen's plant exhibit.
"Walking through the grove of these majestic trees was awe-inspiring and I wanted to capture their essence," Turner said. "I shared this photo with a close friend and he gave me the confidence to know that I had achieved my goal. Shortly after, Jansen announced the exhibition of herbal art and, with my friend's encouragement, I submitted it and it was accepted.
Turner explained that his photograph of Stout Grove "gave me no choice but to use canvas" as the printing surface for the image.
"I've worked with other surfaces and found that matte prints work well for black and white, glossy prints work well for color, and canvas works well for photos that capture texture," said said Turner. "It's not an absolute but gives me a guideline to determine what surface I might use."
Attention to detail, intentional
Not only is Chloe Smith the administrative assistant to Jansen, but she is also one of the artists whose work is part of the plant exhibit.
Although Smith studied art in college, she considers herself a self-taught artist.
"My primary medium has always been ink, but I've also worked in watercolor, gouache, and mixed media," Smith explained. "I appreciate the way the ink forces the artist to be attentive to detail and intentional."
Two of Smith's ink drawings are on display in the plant exhibit: Fiddle Leaf and Thicket. Both are pieces she created specifically for this show.
"It was good to have a goal and a deadline because for the past few years I've struggled to find inspiration," she said.
Smith said that although most of his artwork is of plants and animals, the plant-based exhibit "felt like a good time for me to get back into practicing drawing."
"I created Fiddle Leaf first and thought I would challenge myself to complete another piece in time for the deadline," Smith said. "Thicket is actually a new version of a piece I created a few years ago but left unfinished. I walked into the exhibit not expecting my art to be chosen, but it feels good to have a reason to do something, and I'm glad to be able to show both pieces.
Ceramic artist Jesse Rasmussen is also Jansen's director of ceramics. His visual work, Rasmussen said, is derived from observations and experiences in the natural world, and that his sculptures reflect that experience.
"They are a microcosmic representation of how I see the world as a connected and interdependent source of creativity," Rasmussen said.
Rasmussen explained that his Out of the Ashes series reflects the recent pandemic, civil unrest, climate change "and how we emerge and grow again from the collective experience."
Out of the Ashes includes three pieces: Emerge, Perseverance and Resurrection. Rasmussen created the series in the spring of 2021 to "reflect and respond to the events of a global pandemic, devastating wildfires, climate change, and civil unrest and uncertainty."
"I wanted to reflect on the darkness the world was seeing with hope for a positive resolution," Rasmussen said. "Like the destructive nature of a forest fire, the forest will grow back stronger and healthier through resilience. Nestling above the charred wooden form, I chose a brightly colored egg shape to represent the hope of the possibilities that remain to be seen.
Jansen Art Center juried exhibits rotate seasonally and showcase the county's artistry. Artists of all calibers and mediums are invited to submit up to five pieces which will be reviewed by a rotating jury made up of artists, curators and other members of the regional artistic community.