The Krasl Art Center hosts new exhibitions celebrating our relationship with food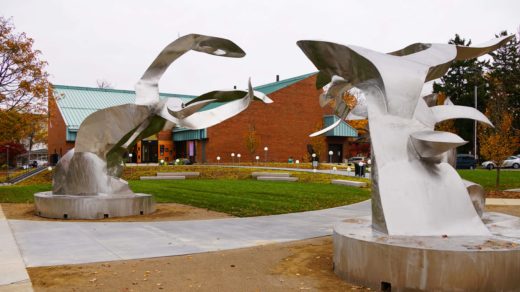 The Krasl Art Center has announced two new exhibitions coming in September. He tells us more:
Krasl Art Center (KAC) is hosting two new exhibitions in September. 'Family Dinner: The Deep Connection of American Lived Experience' opens in the main gallery and 'FOOD for THOUGHT' in the living room on September 3, with an afternoon art reception on Saturday, September 10. Both exhibits are free and open to the public from September 3 through November 13 and provide multiple opportunities for the community to engage with the artworks on display.
'Family Dinner: The Deep Connection of American Lived Experience' illustrates the impact and history of domestic life in the United States with intimacy and immediacy.
The physical center and conceptual starting point of the exhibition is "The People's Dinnerware" by Justin Rothshank. The ceramic cutlery installation commemorates every President of the United States as well as critical and often underrepresented figures from each presidential era. Likewise, Melissa Blount's textile primer (or ABC book), "Black Girl Magic," shines a light on little-known or absolutely unknown historical and contemporary women in American culinary history.
Other explorations of the table, domestic life and current events by Tajh Rust and Katie Butler complete the exhibition.
In KAC's living room, "FOOD for THOUGHT" celebrates community while asking us to think critically about our relationship with food.
During the summer of 2021, the Southwest Michigan Local Food Council commissioned four artists to creatively respond to visitors' personal food experiences at local farmers' markets. Participants defined and expressed themselves through their experiences with food, and artists incorporated the responses into a painting representing this community. The final art installation is a visual representation of the voice of the community through the lenses and imagination of local artists.
The exhibitions open with an Afternoon of Art on Saturday September 10 from 11 a.m. to 3 p.m.:
11 a.m. – 12:30 p.m.: FAMILY DAY
Glaze exhibition-inspired ceramic dinner plates during this walk-in art creation.
12:30 p.m. – 1:30 p.m.: EXHIBITION RECEPTION
Enjoy a story hour for all ages and a white glove guided tour through the galleries and small bites at the Bistro on the Boulevard.
1:30 p.m. – 3 p.m.: ROUND TABLE
Hear from "Family Dinner" artist Melissa Blount and "FOOD for THOUGHT" organizer Jennifer Tomshack.
Thank you to KAC 2022 Expo Sponsors: Huntington Bank, Starks Family Funeral Home & Cremation Services, 98.3 The Coast, RW LaPine, Tyler Automotive, Silver Beach Pizza, Kruggel Lawton CPAs, Boulevard Inn & Bistro, and Art FX Signs.
ALL EXHIBITION PROGRAMS
LIVE AT NOON TIME:
BEHIND THE SCENES OF THE FAMILY DINNER SETUP
Thursday, September 1, 12 p.m.
FREE on Facebook Live
LIVE AT NOON TIME:
COFFEE WITH THE CURATOR
Thursday, September 8, 12 p.m.
FREE in person and on Facebook Live
DINNER WITH THE FAMILY: AN ARTISTIC AFTERNOON
Saturday September 10, 11 a.m. – 3 p.m.
Free and open to the public
LIVE AT LUNCH TIME: JAYLEN LANIER
Thursday, September 29, 12 p.m.
FREE on Facebook Live