The latest New York theater news and happenings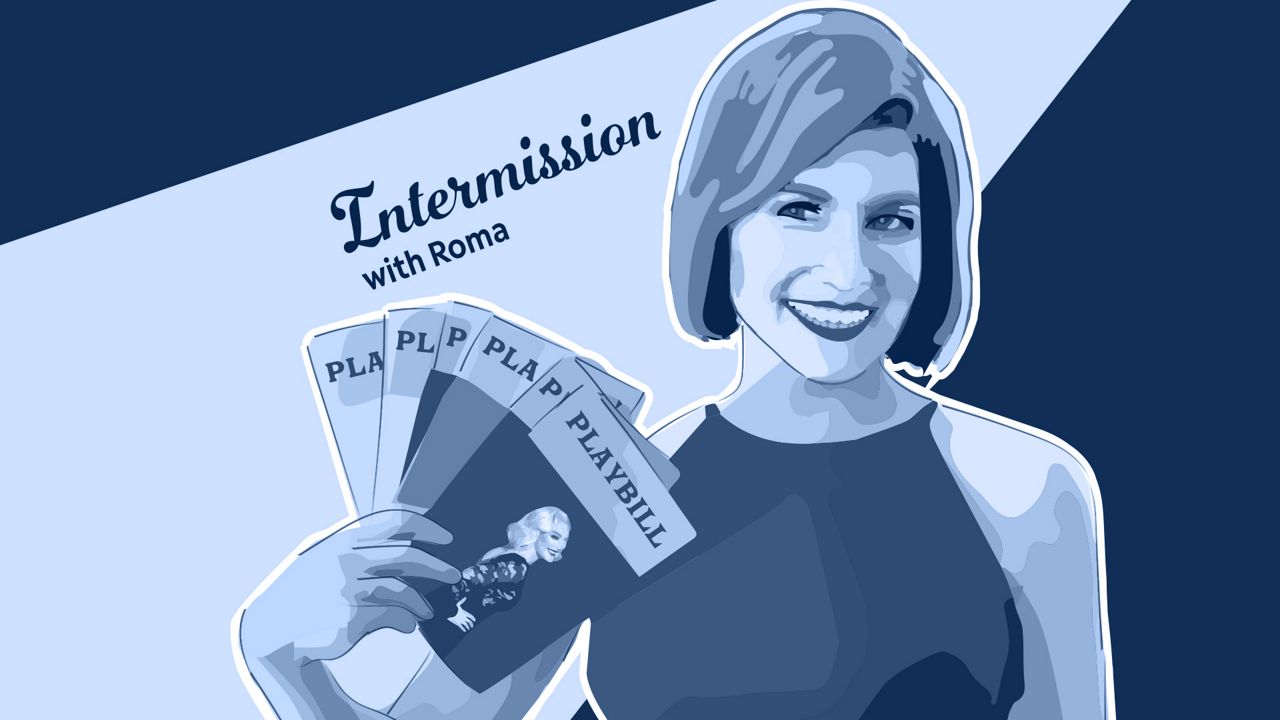 NY1 is proud to present "Intermission", an all-new resource for theater fans deprived of those very long months of the thrill that only the live stage can provide.
As NY1's Theater Critic, I will have the pleasure of hosting this weekly column, which I hope will help fill the gaping hole the pandemic has caused in our theater lives. I will be joined by Nina Godfrey who was bitten by the theater bug very early in her young life. She'll help provide plenty of fun facts and memories while we wait for that insufferably long intermission. But first let me introduce myself and I hope to put a smile on your face…
I really miss live theater. After watching and commenting on over 3,000 productions, most of them on Broadway, you'd think I'd had enough. But no, I'm a theater addict, a retired drama queen. Musicals, comedies, tragedies… it makes no difference, I want it all.
I guess you could say it's in my blood. "Finian's Rainbow" brought my parents together in 1947. My father was a rookie producer who had found a formula for a Broadway hit. My mom was the entertainment editor at NY World-Telegram looking for a story to fill her column. The show was indeed a success but their romance lasted longer. They were happily married a year later.
I was three or four when they took me to see my first show – 'The Sound Of Music' – with the great Mary Martin. My memory is basically blank, but I seem to remember actors moving through the aisles. If it wasn't part of the original staging I might have mistaken it for a trip to Radio City Music Hall that year, although hard to imagine I couldn't tell the difference between the Rockettes dancing girls and singing nuns. But from that moment I was hooked.
I had a very healthy collection of show albums that died prematurely after playing the LPs so many times, it gouged the vinyl. I loved 'Purlie', 'Shenandoah', 'The Wiz', '1776' and 'Hair' – all original productions. At the age of 11, seeing "Hair", Berger jumped into my seat, straddled his arm in his loincloth and screamed like a madman. My first crush!
Several years later, as apprentices at the Odd Chair Playhouse in Pittsburgh, we performed "Hair," although I was relegated to handing out towels backstage after the nude scene. Always a thrill… and my second crush… but it wasn't Berger who It was Claude.
Unfortunately, I lost all the Playbills from those early days, but once I started as a reviewer in 1987, I pretty much kept them all. They kick me out of the house these days, but they're like adopted children to me. I can't bear to part with it.
This is just an introduction to my love affair with – and addiction to – theater. For those of you who share our sense of loss from dark scenes, we hope to offer some light in these online pages. And until the curtains rise again, allow us to provide a space for you to be informed and entertained. In the weeks to come, I'll be sharing more experiences, reporting on developments, introducing you to some of my favorite people, and suggesting ways to get your virtual fix of theater while this nasty virus closes the curtains.
And now, I present to you Nina Godfrey…
My first Broadway show was "The Lion King" when I was 11 in 2006. My grandmother took my sister and me – aisle seats of course – and I was blown away. Funny enough, the last show I saw before closing was "Aladdin" – a ticket bought on a whim when my sister was in town with a friend. Clearly Disney has come full circle in my theater history.
In 2007, I saw "Wicked" with my family, and it was that show that really hooked me and cemented my love of acting. "Wicked" remains my favorite musical and introduced me to some of my favorite Broadway actors. My sister had the same experience, and the theater continued to bring us together despite a seven-year age difference.
While at Marist College, I was able to see many Broadway shows with $25 trips that included a ticket and round-trip transportation. It was a dream come true for a theater nerd like me, and I've desperately missed those trips since graduating. I also had the chance to experience part of the West End while studying abroad in the UK.
Theater is one of my favorite things about living in New York, and the city doesn't seem the same without it. But while the seats may be empty, the artists – and the art they create – aren't going anywhere, and Roma and I will be here to examine what's happening now and how the spirit of Broadway lives on.
Flashback to one of my early reviews
My career as a critic began 33 years ago while reporting for News 12 Long Island. In 1993, after moving to NY1, I continued to review shows on Broadway and elsewhere. One of my early reviews was "Wrong Turn at Lungfish" at the Promenade Theater with none other than George C. Scott, Tony Danza and Jami Gertz.
Today in theater history
"A View From The Bridge" premieres November 12, 2015
Director Ivo Van Hove foreshadowed his sweeping revamp of this year's "West Side Story" with his barefoot deconstruction of Arthur Miller's classic tragedy. Mark Strong starred as Brooklyn's cursed longshoreman.
The Lion King opens November 13, 1997
By far Disney's most successful venture on Broadway, "The Lion King" won five Tony Awards and became the third-longest-running show in Broadway history and the highest-grossing production ever. history, both on stage and in film.
Fun fact: One of the original cast members was Christopher Jackson, who you might know best as George Washington from "Hamilton."
Broadway at Home: This Week's Theatrical Events, Available Straight to Your Computer
Saturday, November 14 at 8:30 p.m. EST: Opening of "Reconnected" by Jason Suran
This one-hour virtual show by mentalist Jason Suran is billed as "an intimate, interactive, and compelling experience where sophisticated acts of mind-reading meet uniquely immersive elements." The show is recommended for people 13 and older due to language.
Tickets are available here for shows until December 19.

From Wednesday, November 18 to Saturday, November 21: York Theater Company presents "Broadway's Great American Songbook" with Karen Mason
This cabaret series hosted by Michael Feinstein features a new Broadway performer every week, premiering every Wednesday and encore performances until Saturday. Karen Mason is best known for her roles in "Sunset Boulevard" and "Mamma Mia!"
To buy tickets here.

"Shakespeare at Home"
For Shakespeare fans in withdrawal…Huzzah! For your listening pleasure, 'The Tempest' and 'Richard II' in the style of classic radio plays, featuring the voices of Broadway and Hollywood veterans as well as West End 'Harry Potter' stars. And everything is free!
For information: shakespeare-at.org
Cryptic playbill
And finally, a bit of fun for theater fans, each week we'll share artwork from a Playbill cover minus the title and see if you can identify the show. We will have the answer the following week.
Here is the first: