wearable ART 16: the Dunedin Fine Art Center recruits artists for its annual fashion show | Deviations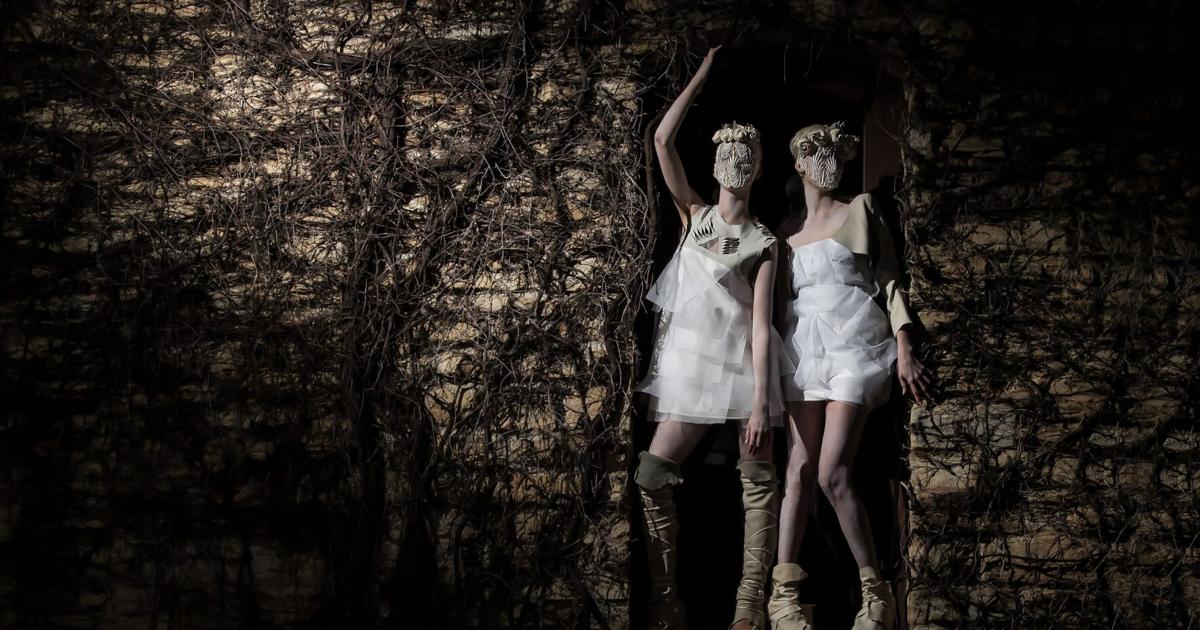 DUNEDIN — It's been a minute since the Tampa Bay area's art and fashion extravaganza filled the runway with wild, innovative works of art displayed not on museum walls, but on the body in movement. Fans of the event won't have to wait much longer: the organizers will be showcasing portable ART 16 on Saturday, August 27.
The Pre-Glow party will kick off the festivities at 7:00 p.m. The parade will start at 8:00 p.m. and the After-Glow party will begin after the parade ends. The Pre-Glow and After-Glow parties will take place at the Dunedin Fine Art Center, 1143 Michigan Blvd., Dunedin.
The parade will be presented at the Dunedin Community Center, which is adjacent to the CASM parking lot. Tickets for the parade range from $85 to $135. Back by popular demand is the $20 Party Ticket this year, which grants access to the before and after parties. This indoor standing room option provides the opportunity to enjoy all the music and fun and watch the parade, streamed live on a large video monitor.
For more information and tickets, visit www.dfac.org or call 727-298-DFAC.
According to CAEF Vice President and COO Ken Hannon, event organizers consider this a "Sweet 16" event, with a minor caveat: "If you've ever attended this exhilarating show, you know anything can happen."
Since its beginnings in 2005, the event has evolved and expanded. It's so popular that it takes two installations to stage it. Now in its 16th year, this always surprising event promises to continue to be the standard against which all other art and fashion fairs are measured.
MAEC's Wearable ART was one of the first fairs in the region to feature a growing contingent of artists working in fashion. It continues that tradition into its 16th year, with runway presentations by Mark Byrne, Rya DeMulder, Neva Durham, Bay to Bay Designers, Cindy Linville, Olga Saretsky, Frank Strunk III and Lina Teixeira. This year's festivities will be complemented by a gallery exhibition by Leslie Joy Ickowitz entitled "Windows in Time".
As if that weren't enough, the gala showcases the art of hair and makeup from Salon GW.
"With the return of the inimitable Frank Strunk III, Miami's Kikimora and the rest of this year's incredible line-up, this will be the year people talk about," said Catherine Bergmann, director of curation at the DFAC. "The thing is, every designer seems to improve the game every year. It's getting more and more fantastic, if that's possible.
In an interview with Tampa Bay Newspapers, Bergmann explained how the ART wearable fashion show highlights the connection between artists and the fashion world.
"DFAC's Wearable ART show has always been a barometer of what's happening in the wider culture, albeit to a lesser extent, the fashion world itself, as remember: this is wearable ART outrageous and provocative, not a couture design," Bergmann explained. "That being said, over the years we've seen designs made out of condoms, 8mm film, sliced ​​meat (Pre-Lady GAGA), woven plants, reconstructed soccer balls, balloons, metal and… in other words – magic."
According to Bergmann, the event was conceived 16 years ago by former CASM assistant curator Kaya (Parwanicka) Jill.
"Kaya saw the potential to combine the world's collective passions for art and fashion and with the help of a small, inspired team of employees and other creatives, produced our first show on a slightly elevated runway. through the art center atrium in front of an overflowing crowd that threatened capacity," Bergmann said.
As the event grew in popularity, it became apparent that the atrium was not large enough to accommodate the extravaganza.
"Over the years, we have moved the show, out of necessity, to the Community Center, adjacent to DFAC, where fashion fans now view the show from assigned seats," Bergmann said. "We've added pre+post parties at DFAC with a bar, live music, an interactive gallery of fun fashion festivities, and full-screen viewing of the live show for those who want to play more and pay less."
Bergmann added that the "constant sparkle" that makes every show a revelation comes from the performers themselves. She said they never fail to amaze with their inventiveness, elegance, humor, beauty and challenge.
Other talented creatives play a role in the success of wearable ART.
"From the beginning, we've worked only with production guru Chuck Taylor of Production Source Inc. who has elevated wearable ART to dazzling heights by introducing state-of-the-art sound, lighting and technical support that rivals catwalks in every major city," Bergmann said. "We also owe 16 years of gratitude to Gregory Brady and the hair and makeup professionals at Salon GW whose generous, expert, and inspired artistry keeps ART portable in good condition."
Meet the artists/designers
The Bay to Bay wearable art collective, formerly known as the Garden Fairies, is a group of seven artists who all have a passion for designing, building – and sometimes modeling – their wearable art clothing and headpieces. Even though not all of their career paths are in the creative realm, they creatively suggest ideas to each other when constructing their own individual looks. This year, the collective will present its "Ocean Oddities" collection, featuring an array of unique handcrafted "artfits". Each designer shares their perspective on the oddities found in the ocean.
Marc Byrne has been a professional balloon artist and magician for over 30 years. The Clearwater resident has traveled to China, Australia and Europe to showcase his unique brand of balloon art. He's also been to numerous trade shows, including several with his signature balloon dresses.
Rya DeMulder is a multimedia artist new to the Tampa Bay area. Drawing inspiration from her unconventional upbringing in the woods of upstate New York, DeMulder marries her training in the visual and theatrical arts with technical clothing construction skills to create ethereal yet dramatic looks. Inspired by haute couture, geometry and spirituality, she uses her work to explore the fragility and strength of human experience.
Neva "The Diva" Durham is the owner of Diva Designs Makeup. Local to Lakeland, she is a unique and creative makeup artist, body artist, makeup artist, and wearable art designer who delivers beautiful looks at fashion shows, photo shoots, weddings, and any other fashion appeal.
Born and raised in Pinellas County, Cindy Linville graduated from USF St. Petersburg. She loves everything related to art. She loves photography, painting, body painting and fashion design – anything that gets her hands dirty. She also has a deep love of the environment and tries to reuse or reuse as much as she can while she creates. This can mean using someone else's discarded paint or buying clothes from a thrift store to alter and create with. She is always ready to test her limits and try something new.
Olga Saretsky of Kikimora Studios grew up in a Russian family in Kazakhstan. She launched her performing career at age 15. Saretsky organized her first dance company called Effect where she designed and produced costumes for her company as well as choreography. After spending eight years traveling to different countries to work as a performer, she arrived in the United States in 2006 and began freelancing for local circus and entertainment companies as a freelance performer. . She began to make more and more costumes that matched her personality and unique view of the world. In 2010, she organized Kikimora's first fashion show. Saretsky lives in Miami where she teaches and produces wearable art.
Frank Strunk III was in the first ever wearable ART exhibition in Dunedin. His inspired metallic catwalk designs have pushed and created new boundaries and categories for how we consume and appreciate art on the catwalk. Never afraid of controversy, he has embraced subjects on his human canvases that invite the public to reflect on the world and our role in making it a better place for all of us. Strunk has twice entered the international World of Wearable Art competition held in Nelson, New Zealand. He won awards both times and WOW purchased his works for their permanent collection. Frank is one of the American artists featured in a coffee table book entitled: "World of Wearable Art: 30 designers tell their stories" (2015).
Born and raised in Montreal, Canada, of Portuguese parents, Lina Teixeira is a master multi-tasker. She is a busy mother of two, business owner, published author, special concepts director, avid wearable art artist, and a recently elected member of the Clearwater City Council. She enjoys transforming the everyday mundane into beautiful forms of wearable art. Teixeira's wearable art has been seen internationally and featured in local media and various public forums.