What a night for young point guards at the Art Center Theater | Clubs And Organizations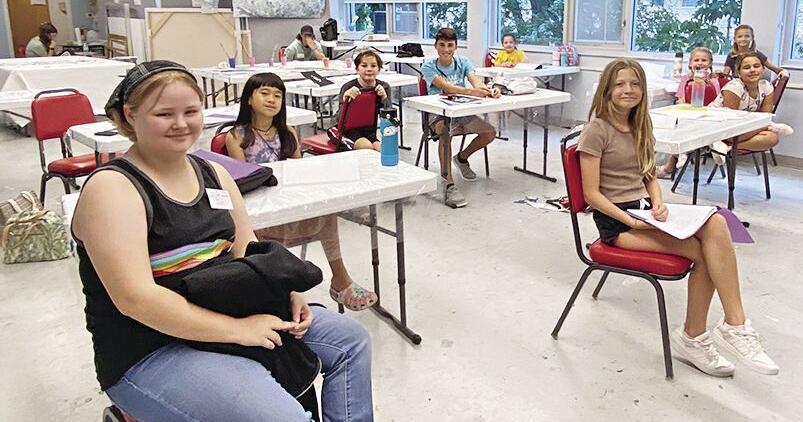 On Friday, July 22, the Arts Center Theater presented a series of short plays from the "Playmakers Lab" at the Marco Town Center. This is the second year of the Children's Summer Program and 10 students aged 9-13 have had the opportunity to learn theater and write their own plays. For this summer, the budding playwrights wrote 12 plays in just two weeks.
Playmakers Lab is inspired by the highly successful 52nd Street Project in New York. Children's summer programs are supported by a Marco Island Community Fund grant from the Collier Community Foundation, United Church of Marco Island, Marco Island Foundation for the Arts, Marco Island Sunrise Rotary, Marco Island Noontime Rotary, Marco Island Shell Club , the State of Florida, Division of Art and Culture and many generous individual donors.
The Playmakers Lab, led by playwright, director and theater artist, Chris Dayett, focused on exploring storytelling and performance. Participants learn the basics of storytelling, character development, and playwriting during the first week. During the second week, participants learn directing, design and marketing for theatre, culminating in a staged reading of their original play. Dayett is also the Director of Performing Arts at Marco Island Academy.
In front of a packed house with family and friends, these 12 short original plays were brought to life at the Center for the Arts Theatre:
"What a Night" by Haddon S. Dixon: Jac Lamb as Jessica and Logan Yarnell as Robbie. Directed by Chris Dayett.
"This Way That Way Forwards Backwards" by Presley Rodgers: Logan Yarnell as Max, Cata Stiehm as Mouse. Directed by Charlie Blum.
"Rose and Dots" by Charleigh Rodgers: Jackie Weiner as Rose, Patricia Mills as Dots. Directed by Jac Lamb.
"The Bullet" by Chase Cook: Anthony Politi as Jimmy, Chris Dayett as Dayln. Directed by Jac Lamb.
"The Flight to New York" by Kate Skudnig: Jac Lamb as Rabbit, Hyla Crane as Hat. Directed by Cata Stiehm.
"Life is hard" by Sophia Longo: Hyla Crane as MeMe, Charlie Blum as Jaws. Directed by Cata Stiehm.
"Alex and Willy" by Kim Tran: Cata Stiehm as Willy, Chris Dayett as Alex. Directed by Logan Yarnell.
Isla Ray's "Journey": Jackie Weiner as Kim, Chris Dayett as Donny. Directed by Hyla Crane.
"Trojan War" by Lana Glutting: Logan Yarnell as Dean, Chris Dayett as Zeke. Directed by Anthony Politi.
"The Seagull (but not that of Anton Chekhov) by Alina Nguyen: Logan Yarnell as Rex, Anthony Politi as Antoine. Directed by Chris Dayett.
"Romeo and Spider" by Jac Lamb: Logan Yarnell as Will, Cata Stiehm as Bell. Directed by Chris Dayett.
"Truth or Dare" by Christopher Dayett: Jac Lamb as Mal, Cata Stiehm as Eve. Directed by Logan Yarnell.
Please book Readers Theater dates as follows:
August 7 at 2 p.m.: "Heaven and Mr. Prince" by Mitch Eli.
August 14 at 2 p.m.: "An Evening in One Act" by Alex Costell, Leslie Sanderson and Maryann Clavin.
August 21 at 2 p.m.: "The Swing" by Kristyn Estes.
Special event: August 13 at 7 p.m. Lyndy's Magic Parlor – a mind-blowing magic comedy show starring magician Lyndy Phillips.