WHO'S WHO 2022: The many facets of Vin Quenneville, general manager of the Jansen Art Center | News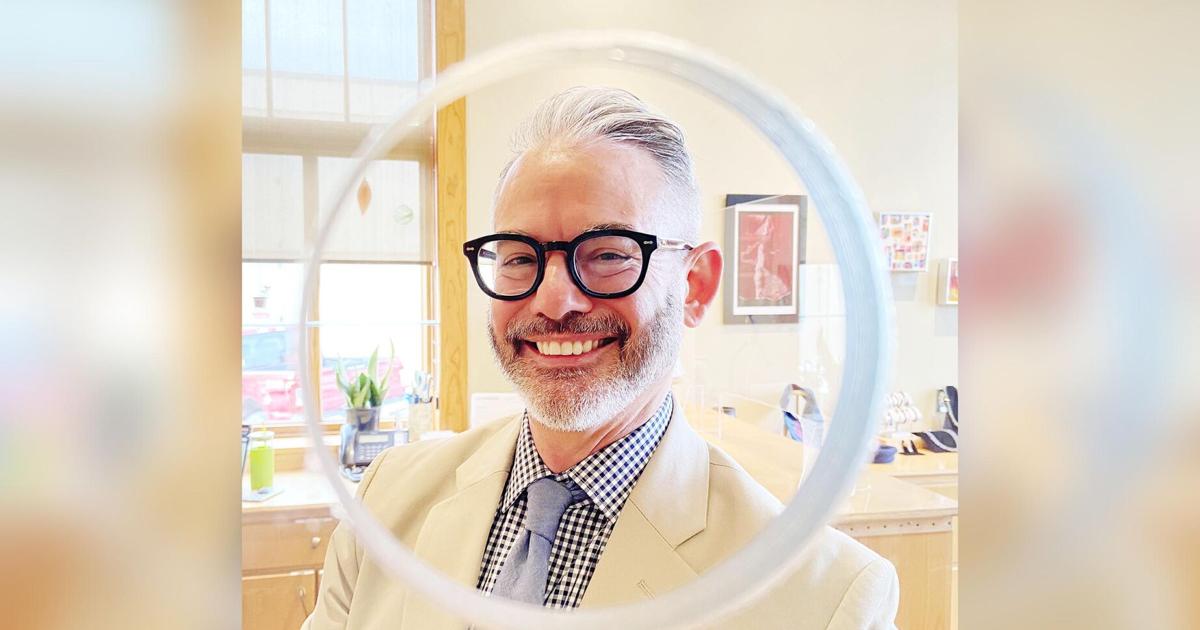 Analytical, creative, energetic
LYNDEN — Vin Quenneville is a man of numbers. Working with numbers, however, seems so unusual for a man who grew up wanting to be a musician, then a professional snowboarder, then a mountain biker.
"Over time, I learned that rather than being the person in the public eye, my talents were best served as a supporting role in those areas," said Quenneville, Jansen's chief executive since 2017.
Although Jansen has an accountant, Quenneville is totally analytical, which Jansen's art director Lindsey Gerhard says is good for the person at the top of the mountain.
"He speaks in spreadsheets, but he has a strong sense of style and good taste in design," Gerhard said.
With a strong background in business operations and marketing, Quenneville is "extremely financially savvy and it is in large part due to his careful budget management and strategic development and oversight of our fundraising that the J is so strong today," said Gerhard.
"We are able to provide healthy jobs for artists, educators and administrators while taking creative risks every day, while ensuring that the organization is not only solvent but thriving," said Gerhard.
Make sure the numbers work
People might assume that the numbers guy is a slave to his desk, always with a pencil in his hand and a calculator nearby. This is not the case with Quenneville.
"Vin never walks, he's always running to the next thing," administrative assistant Chloe Smith said. "He keeps the energy high even on days when not much is happening here. He shares the vision and mission of the art center while seeing things through a lens of maximizing resources and making sure the numbers work.
A typical day in the life of Quenneville is, well, there is no typical day, he says.
"Every day is different," he said. "It's usually a mix of support staff, time spent with our volunteers and donors, managing finances and maintaining our facilities."
Quenneville grew up in Connecticut, then spent 15 years in Vermont before he and his family moved to the Pacific Northwest in 2012.
Prior to joining the Jansens in 2017, Quenneville spent more than 25 years helping small businesses thrive with a focus on motivation and building strong, productive teams.
Quenneville describes the Jansen as a "vibrant center where the whole community feels welcome and where artists of all levels have a place to explore their creativity, hone their skills, and showcase their work."
A warm and engaging man, Quenneville explained that the J is "incredibly lucky to have the talented staff that we have".
"We all have such different personalities, but we all share a deep passion for our work," he said. "Lindsey was the perfect partner to integrate into our organization. His skills complement mine on many levels. We both bring different expertise to the table, but we share the same vision. I am proud to have her as a partner and to be able to step back and see her guiding our teams to carry out our mission.
With Jansen since mid-2020, Gerhard said Quenneville is "encouraging, he laughs a lot and dole out compliments left and right".
"Vin is so much fun. His passion and dedication to the J and everyone involved here is evident," said Gerhard. "He shows up every day ready to elevate his team and the community around us. He knows how important it is to have a healthy, balanced and supportive work environment and he is fully committed to it.
Margaret Irvine is responsible for coordinating events, rentals and volunteers at the Jansen Art Center. She said recently that one of the reasons she likes working for Quenneville is that he is a decision maker.
"A lot of us have worked for people who can't or choose not to make decisions," Irvine said. "Their inability to do so leads to loss of time, frustration and anguish. Vin gathers information, asks for opinions and then decides. Now the decision may not be what we choose, but at least we have the option to move on and move on to the proverbial Plan B.
Most often, the exhibitions at the J are open. In fact, since 2015, Jansen had not organized a thematic exhibition.
On March 4, the Jansen inaugurated its plant exhibition. Quenneville explained that Gerhard and the exhibits committee thought about a few different themes for this exhibit.
"Ultimately, they landed on the plants because it was a great springtime connection," he said.
With 104 works of art created by 52 artists, Quenneville and his team confirmed that the exhibition had received its "highest submissions ever".
As with all Jansen exhibitions, patrons can purchase artwork from the gallery shop. The artwork, however, will be available for pickup when the exhibit closes.
Jansen's plant exhibit will be on display until April 30.
"Helping Hand Wherever You Look"
What makes Quenneville the unique person he is?
Jansen board member Chuck Robinson said Jansen's executive director is "open and collaborative" and often seeks input from a wide network of people.
"Vin is both analytical, as evidenced by his financial management, and creative, as he has shown in his programming," Robinson said. "I have been a member of the J Board of Directors for over three years and it has been a great pleasure to work with Vin."
For Mary Fitzgerald, Marketing Specialist at Jansen, Quenneville is unique with its "'HI!' enthusiastic! when you walk through the door.
"His toolbox ready to go under his desk," Fitzgerald said. "His converted Land Rover with his own Instagram account. His dedication to the perfect glass of whiskey or wine. His storytelling skills. It could take a while. »
Fitzgerald explained that working at the J "never really feels like a typical day at the office."
"Whether it's an exhibition opening, a concert, a kiln shed being built, you can never say it was a boring day," Fitzgerald said. "There are so many people in the J community, you're never going to go through anything alone. From administrative staff to studio managers to artists to instructors to volunteers. There are always helping hands everywhere you look.